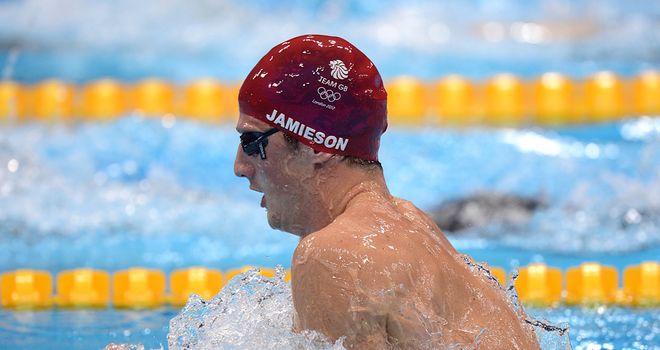 Michael Jamieson: Fastest qualifier for 200m breaststroke final
British hopes of another medal in the pool were raised by impressive swims from Michael Jamieson and Andrew Willis on Tuesday evening.
The duo set the first and third fastest times in the semi-finals of the 200m breaststroke to storm into Wednesday night's medal race.
Jamieson went quickest, setting a new British record of 2:08.20.
The Scot erased the figures he set in the morning heats with a dominant swim to win his race.
He said he had been inspirded by the crowd at the aquatics centre after his race.
"This is so amazing, he said. "Every time I've come out here I get goosebumps walking behind the blocks. It's really something special and it's helped me this week, I know that. I'm really happy with the time."
Willis then finished second in the following race in 2:08.47, a new personal best.
He said: "That is unbelievable. I wasn't nervous, more excited. The crowd really helped me out there.
"I wanted to be in the final and I've done that. I'll be in a middle lane, enjoying it."
Wednesday night promises to be a good one for the hosts, with Jemma Lowe having scraped into the final of the women's 200m butterfly as the eighth and final qualifier.
She finished fifth in her heat but her time of 2:07.37 was good enough to move into the medal race. American Kathleen Hersey was fastest qualifier in 2:05.90.
Lowe said: "Tonight was probably a little bit dangerous but it worked perfectly.
"I feel like I have a little more in the bag but you never know in the final, there's a chance for everybody. I'm just going to give it my best.''
Tuesday's finals brought little joy for the British competitors, Caitlin McClatchey and Hannah Miley both finishing seventh in their races.
Revenge
American Allison Schmitt produced a dominant swim to claim the 200m freestyle title.
Schmitt, runner-up to Camille Muffat in the 400m on Sunday, led virtually all the way to take her revenge on the Frenchwoman, who this time had to settle for silver.
The American, who trains with Michael Phelps, was inside world-record pace for the three splits but in the end just missed out. However, her time of one minute 53.61 seconds was a new Olympic record.
It put her almost two seconds ahead of Muffat (1:55.58) with Australian Bronte Barratt, the reigning Commonwealth champion, third.
McClatchey was seventh in 1:57.60.
She said: "I would have liked to have gone a bit faster than I did in the semi, I tried something a bit different and ended up going out too hard probably, tried to stick with Missy (Franklin) down the first length, and it took a bit more out of me.
"It was all about enjoying it tonight, I knew I would have to do something massive to get into the medals.
"I didn't even think I would make the final because it was such a strong event so that was a massive achievement, and I didn't come last so that was good.''
Miley finished down the field in the 200m individual medley as China's Ye Shiwen complete a gold-medal double.
The 16-year-old, whose rapid improvement has been questioned in some circles, set a new Olympic record of 2:07.57 as she added the 200m title to her 400m crown.
Australia's Alicia Coutts was second in 2:08.15, while American Caitlin Leverenz grabbed the bronze.
Miley's time was 2:11.29.