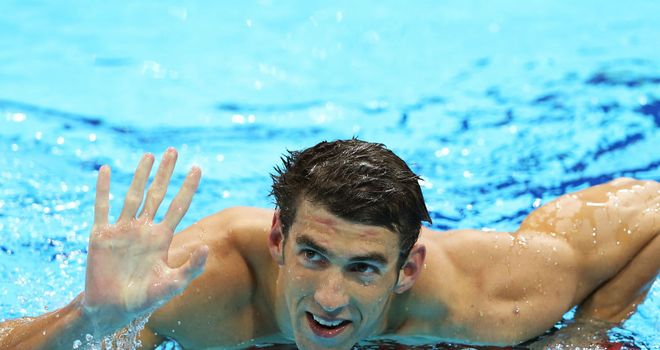 Michael Phelps: Won his 18th Olympic medal in the 200m butterfly before anchoring the relay squad
Michael Phelps became the most decorated Olympian of all time when he won his 19th medal on Tuesday.
Having drawn level with Larisa Latynina by winning silver in the men's 200m butterfly earlier in the evening, Phelps passed the Soviet gymnast when USA won the 4x200m freestyle relay.
After anchoring the US team to a dominant victory, Phelps now has 15 gold, two silver and two bronze medal from his four Olympic Games.
However, while it was an historic evening for the 27-year-old, it was tinged with disappointment as he was upset by South African Chad le Clos in thrilling fashion in the 200m fly.
Costly
Le Clos pipped Phelps on the very last stroke, the American's glide into the wall proving so costly. He therefore missed out on winning what is his favourite event for the third Games in a row.
Le Clos touched in one minute 52.96 seconds, 0.05 faster than Phelps, with Japan's Takeshi Matsuda claiming the bronze medal.
The gold medal was never in doubt in the relay though, the US team leading from the outset.
Wilkie on extraordinary Phelps
France took silver and China the bronze, with the British team down in sixth place.
Latynina's record had stood since 1964 and Phelps still has three events to come in London so could extend the record further. He has, however, said this will be his final Olympics.
By his own standards, Phelps has not had an easy time of it in London and his silver in the 200m fly earlier in the evening must rank as a disappointment for a man who had been looking for his third straight gold in the event.
But the feeling in the Aquatics Centre was probably best summed up by the man who beat him to gold in that event, Chad le Clos of South Africa.
Hero
"Phelps is my hero and I love the guy," was his reaction. "This is a dream of mine, I have always said Michael Phelps was my hero.
"I wanted to be in the final for my main event, I achieved that goal and my coach said you have done all you have to do.
"But I just remember sitting in the call room thinking that Michael Phelps has never lost this race for 10 years in international meets.
"I remember turning in the last 50 and just looking at him underwater and realising this is my hero, it's crazy.
"I can't describe how I felt. In the last 25 metres, I can't explain what came over me. I am shocked by how many people seem to know me back home now.
"I'll have to try and defend my title in four years time, but to beat Michael Phelps is something I have wanted my whole life, it is exactly what I have been dreaming of since I was 12.
"I can't speak for Michael, but he had a great race and it was a great time too."