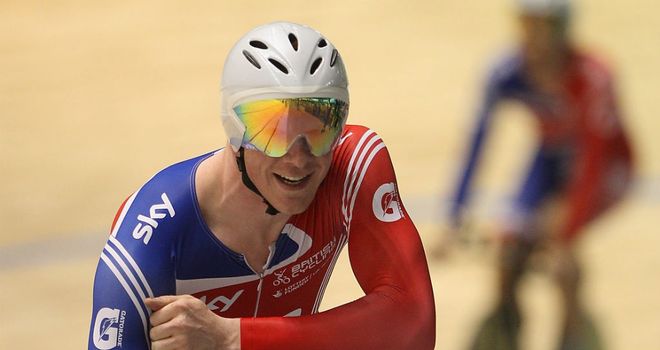 Ed Clancy: Focus on winning team pursuit before attention switches to the omnium
Defending champion Ed Clancy believes the strength in depth of Great Britain's men's team pursuit squad will be advantageous when action begins in the London 2012 Olympic Velodrome on Thursday.
Clancy was part of the British quartet which won gold in Beijing in 2008 and returns to the Olympic track alongside Geraint Thomas, with Steven Burke, an individual pursuit bronze medal winner in China, Peter Kennaugh and Andy Tennant completing the squad.
Britain won the Track Cycling World Championships team pursuit title for the first time since 2008 in April in Melbourne, shaving 0.019 seconds off the Olympic-winning time to take the world record to three minutes 53.295 seconds.
Clancy believes all five Britons will be crucial in the bid for victory in the four-man, four-kilometre event ahead of arch-rivals Australia, Russia and New Zealand, particularly due to the proximity of Friday's first round and medal rounds, which are little more than an hour apart.
Demanding schedule
The 27-year-old said: "We've got five strong guys that are all pretty equal, so that's certainly something in our favour.
"We've raced across two days before, but it will be a bit different on the second day, having the semi-finals and finals so close together.
"But it's the same for everyone. Every team is going to have to get up to race the finals with tired legs."
Tennant rode in the qualifying round in Melbourne but was replaced by Burke for the final and riders are set to be switched again.
A top ranking from Thursday's qualifying round is key.
Clancy believes the world record could fall, and the strategy for Friday's latter stages will be determined after qualifying.
He added: "In qualifying you can go absolutely flat out and you've still got 24 hours to recover.
"If we qualify fastest, we'll be against fourth place (qualifiers). The winner of that round will go to the gold final.
"Are you going to go flat out then or do just enough to win? "There are a few different options. I guess the sports scientists will get their calculators out and work out what's the most efficient way."
Endurance
After Melbourne, Britain's team pursuit squads raced on the road, enhancing their endurance, before final preparations on the track in Manchester and Newport.
Team Sky rider Thomas rode in the three-week Giro d'Italia alongside Kennaugh, who suffered an injury in Italy but appears to be back to full health, while Clancy, Tennant and Burke competed in the Tour Series in the UK.
Rapha Condor Sharp rider Clancy, who was born in Barnsley, grew up near Huddersfield and lives in Newton-le-Willows in Lancashire, has prioritised the team pursuit as fellow graduates of British Cycling's original academy have forged careers on the road.
Thomas and Mark Cavendish, world champion and winner of 23 Tour de France stages, were part of the same academy intake and Clancy is curious to see if he can emulate, at least in part, their success on the road, as a sprinter or leadout man.
Options
The versatile rider, who is set to ride in the six-discipline omnium at London 2012, is also tempted by the one-kilometre time-trial, if rumours are true and the International Cycling Union are to reintroduce the event Sir Chris Hoy won in Athens for Rio de Janeiro in 2016.
Riding four laps of a track flat out is about as far removed from top-calibre road racing as one can get, meaning Clancy could have a decision to make post-London.
"I'd hate to throw away what I've got at the moment for something that might not happen," he said of the road.
"It's not an ideal situation. The road is the complete opposite end of the spectrum from the kilo. I do a good ride in the kilo in the omnium, I'd have to go a fair bit quicker to win against kilo specialists.
"With a bit of training I could possibly have a look at that.
"It's difficult when the UCI don't announce it. If they announced it tomorrow, at least I could weigh up my options and have a good think.
"If they don't announce the events for the Olympics until two years to go, it leaves me in a bit of a difficult situation.
"I'll just have to take it as it comes, hedge my bets and go for one of them."
First, London is the priority as Clancy seeks a second successive Olympic gold.