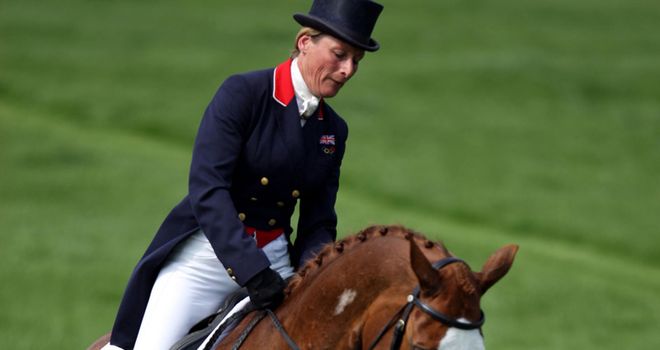 Mary King: Selected among a strong British eventing team going for gold
Equestrian ace Mary King hopes it will be sixth time lucky as she chases an elusive Olympic gold in London.
The 51-year-old will equal javelin thrower Tessa Sanderson's Olympic appearance record for a British athlete when she competes in the Games for a sixth time, while she is also the oldest home female competitor in London.
But King, who helped Britain win eventing team silver at the Athens Olympics in 2004 and then bronze four years later, is taking everything in her stride, having been selected among a strong British quintet alongside William Fox-Pitt, Tina Cook, Zara Phillips and Nicola Wilson.
King and company have a tough challenge on their hands, given the presence of reigning European champions Germany, Australia, France and a New Zealand quintet led by brilliant horsemen Mark Todd and Andrew Nicholson.
"There is one medal I need to complete the set, and wouldn't it be amazing to do that in London? We will see."
Mary King Quotes of the week
Like King, Todd and Nicholson are both the other side of 50, yet experience is likely to be critical around the unfamiliar - and potentially punishing - terrain of Greenwich Park's cross-country track in a fortnight's time.
Looking forward to the challenge ahead, King said: "I've been very fortunate to have ridden at Olympics around the world.
So lucky
"And now to have a Games in my own country I just feel so lucky and honoured to be given a chance to ride in them.
"There is one medal I need to complete the set, and wouldn't it be amazing to do that in London? We will see.
"It would be amazing if it happens. We are in with a chance. There would be, I would say, four or five nations with a chance of winning the team gold, and we are one of that bunch.
"Hopefully, each of us riders can put in our best performances, but we will have to wait and see what happens on the day.
"Riding for a team is quite different from riding as an individual, which is what we do for the majority of the time.
"But at the end of the day, whenever you are competing, you are out there trying to do your best. I hope it will be the best Olympics yet. Time will tell.
"I am riding a fantastic horse in Imperial Cavalier, and I've got as good a chance as I have ever had at an Olympic Games, so fingers crossed it goes my way."
Fox-Pitt praise
Eventing's world number one Fox-Pitt has hailed King and believes she should be lighting the Olympic flame in London later this month.
"Personally, I think it should be Mary King," he said. "She is an amazing Olympic athlete. She is in my team, and I am biased, but this will be her sixth Olympic Games, which is incredible."
The British team has now completed its competitive preparations, with all five riders giving their Olympic horses runs at the Barbury International in Wiltshire a fortnight ago.
British equestrian team leader Will Connell said: "It has been a challenging spring, with a number of events cancelled, and great credit is due to all the riders who have had to reflect this in their plans.
"It has also been a challenging time for selectors. The team that has been chosen is crammed full of athletes that have proven medal-winning ability at European, world and Olympic level."