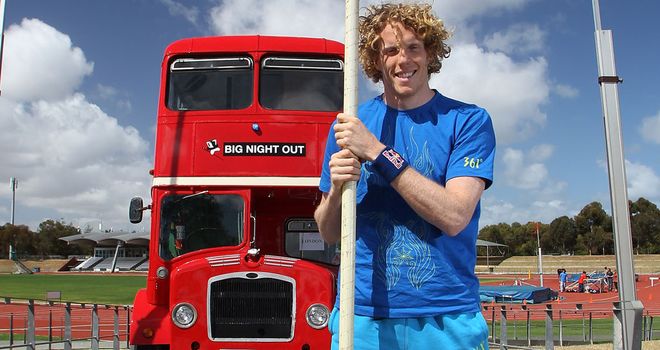 Steve Hooker: Relieved to have booked his ticket to London
Australia's reigning Olympic pole vault champion Steve Hooker booked his ticket to the London Games after clearing the qualifying height in Perth.
A persistent knee injury and an accompanying lack of confidence had threatened to derail Hooker's Olympic campaign earlier this year.
But the 29-year-old cleared 5.72 metres at the second attempt on his first competitive outing in three months to secure his berth at a third Olympics.
"I'm very relieved but at the same time so damn excited," a delighted Hooker told the Athletics Australia website.
"For a while there I thought I was a shoo-in to make London and losing that certainty and having to fight like I have to get back was a challenge I didn't see coming.
"It is something that I am just stoked to have gotten over. It has been months and months of jumps, jumps and more jumps - thousands of jumps, seriously - to be back at this level."
Hooker won the Olympic gold medal in Beijing in 2008, the 2009 world title, the 2006 and 2010 Commonwealth Games gold medals and the 2010 world indoor championships.
He will now return to international competition, starting with the second round of the Diamond League in Shanghai next weekend.