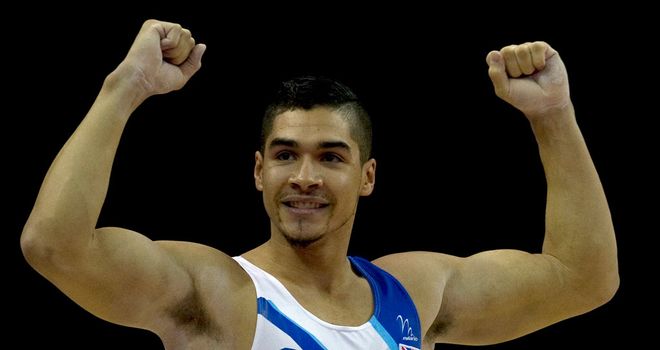 Louis Smith: Silver medal in China
Louis Smith was delighted to try his new routine out, and even happier that it brought him a World Cup silver as he spoke to Sky Sports immediately upon his return to Britain.
Smith made light of his minor injury scare to pick up a silver medal on the pommel horse at the latest World Cup event in China.
The Beijing Olympic bronze medallist was just beaten into silver by Hungarian Krisztian Berki, who scored 15.750 against Smith's tally of 15.600.
A weary Smith made the long journey back to the UK but was already thinking about getting back into training after being buoyed by how his new routine worked out.
"I'm really happy with how the competition went over in Zibo," Smith told Sky Sports.. "More than anything it was good to get through my routines and continue to go head-to-head with the best in the world.
"In the final I got the chance to do my new routine, which was really important to do in a competition environment ahead of the European Championships in May and of course the Olympics.
"It was a tough competition so to come home with a silver medal is great, but for me it was more about getting the routines in the bag.
"I've still got lots to work on so it'll be back in the gym now and more hard work to ensure I continue to improve."
Smith had stubbed his finger in the build-up to the event but result showed it was merely a minor fracture and he was quickly back on the horse practising.
The finger injury obviously did not bother him one bit as he pulled out his new routine in the pommel horse final and it was already good enough to grab him a medal.
One of Britain's top hopes for a gold medal at London 2012 despite being just 22, Smith has yet to officially be named in the Great Britain team for gymnastics.
Smith was the first Briton to win an Olympic gymnastics medal in 80 years when he picked up bronze in Beijing and he has gone from strength to strength ever since.
China unsurprisingly dominated the finals in Zibo, with the hosts picking up six of the ten World Cup golds on offer.