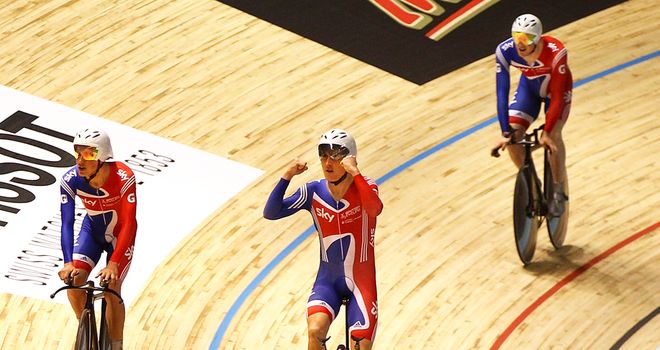 Significant win: The GB men's pursuit squad celebrate their victory over Australia
Great Britain edged a titanic tussle with Australia to take team pursuit gold in a world record time on the opening day of the Track Cycling World Championships while Ben Swift became their first-ever scratch race world champion - but there was disappointment for the sprint squads at the Hisense Arena in Melbourne.
In the four-man, four-kilometre event Ed Clancy, Pete Kennaugh, Geraint Thomas and Steven Burke - in for Andy Tennant, who was part of the qualifying effort - clocked three minutes 53.295 seconds as Britain claimed a first world title in the event since Manchester in 2008 and ended three years of Australian dominance.
Australia's Glenn O'Shea, Jack Bobridge, Rohan Dennis and Michael Hepburn were second in 3mins 53.401secs, which was just outside the previous world record - 3mins 53.314secs set by Britain in winning Olympic gold in Beijing almost four years ago.
However, there was not such good news for Jess Varnish and Victoria Pendleton, who saw their world record bettered and had to settle for fourth in the two-woman, two-lap team sprint.
Germany's Kristina Vogel and Miriam Welte triumphed in 32.549secs, with Australia's Anna Meares and Kaarle McCulloch taking silver in 32.597.
China's Gong Jinjie and Guo Shuang (32.870) won the battle for bronze, with Varnish and Pendleton (33.160) coming fourth.
Relegation
British fortunes took a further knock when the three-man, three-lap team sprint squad featuring Sir Chris Hoy, Jason Kenny and Philip Hindes were relegated.
The trio initially thought they had advanced to the third-placed ride-off, but the takeover between Hindes and Kenny - the first and second riders, respectively - took place too soon.
Defending champions Germany, who had qualified second fastest, were also among four of the 17 teams relegated, leaving France to contest the final with Australia.
Surprise
It all meant there were contrasting emotions for Britain's riders, with Thomas and Clancy revelling in the glory alongside Burke, Tennant and Kennaugh, who each collected their first world champion's rainbow jersey atop the podium.
"I didn't think we'd ride that time," said Thomas, who was part of the Olympic-winning team in 2008.
"I am surprised that we broke the world record. It was only in the last few days that we thought 'we're going to get close to this'. It's a great day."
Hoy, meanwhile, was left to rue a mistake from Hindes, who was making a surprise World Championships debut.
The 19-year-old Germany-born rider, with a British father, is a specialist starter and rode an impressive first lap, but for the changeover.
Hoy said: "I think we had a lot of positives to take from the ride itself and for Phil to step up there and do a personal best by a huge margin and do a 17.5 (seconds) it's getting closer to where we need to be.
"But to have made that mistake in the changeover he'll be disappointed with that.
"He came out a little bit early, Jason came through the inside and we were outside the changeover box area, by quite a long way - it's not even worth appealing against."
Perfect timing
Swift meanwhile emerged victorious in the 15km (60 laps) non-Olympic scratch race, with Nolan Hoffman of South Africa second and Wim Stroetinga of Holland third.
He was alert and in the mix throughout and though a big move mid-race looked likely to split the field for good, it all came back together with 23 laps to go.
Austria's Andreas Mueller, who had been aggressive throughout the race, then made a huge move with seven laps to go and with the field hesitating, Italy's Elia Viviani was the only rider to chase.
Swift then pulled off a brilliant move, bridging rapidly to the tiring duo ahead and then going it alone with a lap to go, just holding off the main field as they charged towards the line.