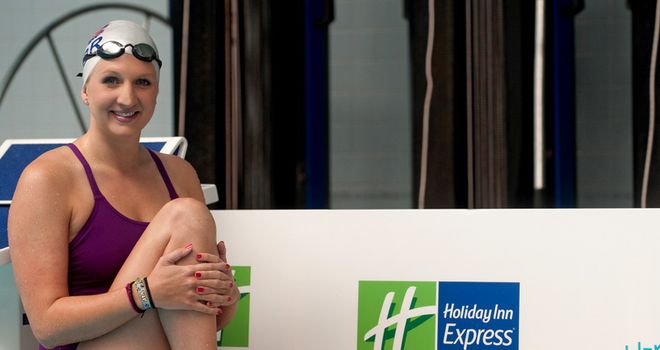 Adlington: The 22-year-old was inspired as a teenager by the 2002 Commonwealth Games
When skysports.com spoke to Rebecca Adlington in Loughborough this week, the swimming sensation was still on a high. Not from becoming a world champion, but from a day of Slim Shady and wellies.
Exactly three weeks after the Mansfield-born 22-year-old had added the 800 metre freestyle World Championship to her record-breaking Olympic crown, Commonwealth titles and 400m European honour, she had spent a day with boyfriend Harry Needs, himself a swimmer, and thousands of other music fans in a field in Weston Park.
Adlington, a worldwide name after bursting onto the scene as an Olympic phenomenon at the 2008 Games, where she also won the 400 metre freestyle, was at the Saturday of V Festival and was among the screaming masses who were dazzled by the likes of superstar rapper Eminem and pop princess Rihanna. Indeed, Adlington admitted on twitter to a 'girl crush' on the latter.
The down-to-earth trait of Adlington adds to her popularity. She is a master of her art, she is Great Britain's most successful swimmer for a century, she is known around the globe, but she maintains the personality of the girl next door.
"Hopefully London can get people involved and carry on that legacy. Obviously the sport does not finish after 2012 and hopefully it can encourage more people and inspire them for future Olympics"
Rebecca Adlington Quotes of the week
"I'm not a big Eminem fan, my boyfriend is. But, oh my God, he was so good. He was amazing," she said of V Festival. "Rihanna was really good as well. She was on just before. Eminem brought her back on for 'Love The Way You Lie'. Everyone was hoping that would happen and everyone just went mental."
Apart from music festivals, how else does Adlington like to spend her spare hours when not under the scrutiny of coach Bill Furniss in the pool work, gruelling fitness training and gym sessions of professional swimming?
"Cinema is the main thing," she said at a Holiday Inn event, where she hosted swimming masterclasses for hotel staff. "I'm a bit of a geek. I go to the cinema every week. It is something that I absolutely love and it is so easy to do. Films seem to be my thing. I saw 'The Inbetweeners Movie' yesterday (Sunday). It was really good. I'm a massive 'Inbetweeners' fan anyway. I watched the whole series."
Ruthless
But trips to the movies may have to take a backseat. Adlington is now returning to training after a holiday in the wake of the World Championships in Shanghai.
She won the 800m in a thrilling final victory over long-term rival Lotte Friis, while she also collected a silver in the 400m. But attention is of course focusing on the London Olympics.
Adlington remains a significant medal hope for London 2012 and her place is expected to be confirmed in March after the ruthless process that is the Great Britain team trials.
Presuming the unthinkable does not happen and Adlington does not experience an off-day at the trials, where, regardless of reputation, the fastest qualify, she will be a figurehead athlete for the London Olympics.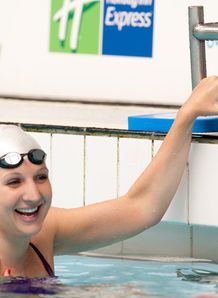 World star: But Adlington is modest
Organising committee chairman Sebastian Coe and chief executive Paul Deighton will no doubt already have her in mind to promote their plans for a much-publicised, post-2012 Olympic 'legacy'. Adlington is optimistic swimming will benefit.
"Hopefully it (London 2012) will get more and more people involved," she said. "I think it (participation) has definitely increased since Beijing. Swimming is growing in profile so much, because of what the team as a whole have achieved over the past few years.
"Hopefully London can build even more on that, get people involved and carry on that legacy. Obviously the sport does not finish after 2012 and hopefully it can encourage more people and inspire them for future Olympics."
Did previous Games and swimmers motivate Adlington herself? Does she have swimming heroes?
"I don't really, to be honest," she admitted. "I swam, because my sisters did and I was baby sister so I wanted to be like them."
No patience
Adlington, though, is excited about the prospect of competing on home soil (or should that be water?), having sampled the atmosphere as a 13-year-old spectator during the 2002 Commonwealth Games in Manchester.
"My parents got me tickets to go and watch," she remembered. "I think it was only one of the sessions, but it was one that Ian Thorpe was swimming. He broke a record, I think it was the 400m freestyle.
"It was amazing. It was just incredible. It was an amazing atmosphere. I always had the motivation, I didn't need that to help me, but it was just one of those things, 'ohh, I want to be competing at something like this one day'."
And what about life after swimming? Adlington thoroughly enjoyed the masterclass sessions, but she has no long-term motivation to follow in the footsteps of Furniss.
"Definitely not! I have no patience to be a coach," she said.
Rebecca Adlington was hosting one of a series of 16 masterclasses which give the staff of Holiday Inn, official hotel provider to the London 2012 Olympic and Paralympic Games, the chance to learn the basics of an Olympic sport. For more details - www.holidayinn.co.uk