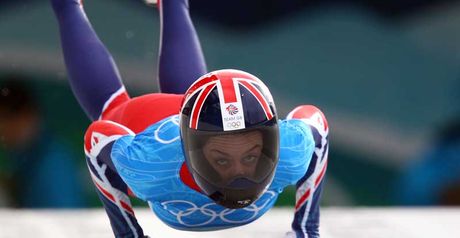 Williams: helmet protest rejected
Amy Williams remains on track for Olympic gold after a protest lodged by the United States over the design of her helmet was thrown out by Bobsleigh Federation officials.
The American team objected to the spoiler on the back of Williams' helmet which they claimed breached an article of the federation's rule-book which deems that a helmet has to be without any additionally attached aerodynamic elements.
But after a protest meeting the federation issued a statement which read: "The protest was denied because the helmet in question was inspected by the jury. According to the helmet manufacturer the spoilers are an integral part of the helmet."
The failed protest means Williams is free to defend her first place after the first two runs of the women's skeleton competition in Whistler on Friday night.
Williams holds a 0.30 second lead going into the last two runs of the competition.
A British Olympic Association spokesman said: "We were always entirely comfortable that we had the documentation that was needed in order to prove that the helmet complied with the regulations."
Turin silver medallist Shelley Rudman - considered by many to be Britain's best hopes of breaking their Vancouver Games duck - is off the pace in 11th place after the first run and although she improved to joint seventh her chance may have gone.
But 27-year-old Williams intends to prepare for the biggest day of her sporting life by "switching my brain off" with a spot of her favourite chick-lit - and insisted: "It will just be another day at the office."
Lightning-fast track
Williams has talked for weeks of her love for the lightning-fast Whistler track and while many rivals like Rudman struggled to adapt, she revelled in the training runs and recorded the second fastest time in three of the last four sessions.
Williams said: "I've had a good first day but I'm just going to park today and concentrate on my next two runs. Internally I know I've made mistakes so if I concentrate I know I can do better.
"The first day I'm always super-nervous but once I get down and realise I'm okay I really enjoy it and relax into it. Hopefully I can relax myself and not be too nervous tomorrow.
"I really haven't slept that great all week so I'll go back and read a bit of my book and try to switch my brain off. I'll just go and relax and get my sled ready for another day at the office."
Rudman shares seventh after a rocky first run effectively ended her medal hopes, and a plucky and much improved second run time of 54.26 improved her ranking but still left her trailing rival Williams by almost a second.
Rudman said: "I had an awful first run and a better second one. In the first run I was skidding quite a lot and I couldn't find my line but my second run was very good.
"I need a dramatic improvement but I'll give it everything for tomorrow. It all depends on what happens and if people make mistakes tomorrow. Fingers crossed I can have a better run tomorrow."
If Williams can hold her nerve and improve on the silver medal she claimed on the same Whistler track in the World Championships last year, she will become Britain's first individual Olympic gold medallist since Robin Cousins in 1980.