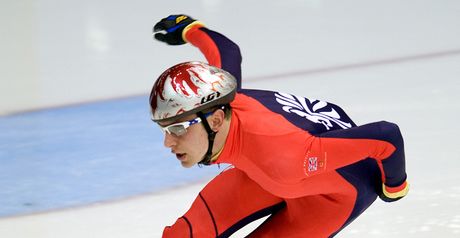 Eley: Confidence high
British speed-skater Jonathan Eley is aiming for success in the forthcoming Winter Olympics in Vancouver, admitting: "I believe I'm good enough."
Sky Bet - Winter Olympics Specials Number of British Medals won: 0 or 1 5/2, 2 6/4 or 3 or more 11/8!
Bet Now
Since finishing fifth in Turin four-years ago, the Solihull-born Eley has improved with every competition - winning six World Cup medals, becoming European champion in 2008 and finishing 2009 ranked third in the world.
Going into Whistler, Eley believes that he has a good chance of attaining a medal and is full of confidence.
He said: "It was a great experience last time and this one I think is going to be even bigger.
"Being in Canada, which is a bit of a winter sports Mecca, it should be a great event.
"Since then I've been doing well, I've had World Championship medals, a high ranking, so I believe I can go there and do well and hopefully come home with a medal.
"I believe I'm good enough. A lot of it in our sport is what happens on the day so I've got to make sure I stay positive and believe I can do it."
Belief
The 25-year-old goes into the event heading a GB short track speed skating team of seven - the biggest since the 1992 Olympics.
Eley is feeling bullish about the team chances in the games, admitting the atmosphere within the team is great.
He added: "It's fantastic. To be away for so long and in a small team is not great. To have as many people as we have making the team means a great team atmosphere.
"We've got a relay team for the first time in a while and I believe we're good enough to make the final and you never know what can happen from there.
"Only the top eight teams in the world have qualified and we're one of them."
Nick Gooch, head coach of team GB is the last person to win an Olympic short-track speed skating medal and the 36-year-old has some words of warning for the team.
Gooch said: "One of the key things in terms of psychology is managing those expectations. We have the belief that we can (get a medal) but we don't expect to. And that's the big challenge here.
"Of course Jon has aspirations to win a medal. He's going to be disappointed if he doesn't get that but, at the same time, it's a very unpredictable sport.
"When you start thinking about the last lap, or the final, or standing on the podium, that's normally when you'll fall over."
Elise Christie, Anthony Douglas, Thomas Iveson, Sarah Lindsay, Jack Whelbourne and Paul Worth join Eley in the GB speed skating team.