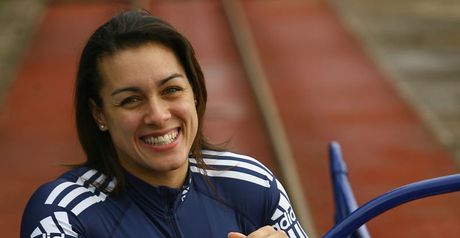 Minichiello: High hopes
British bobsleigh world champion Nicola Minichiello is targeting on Olympic gold, despite having to undergo a third eye operation.
The 31-year-old lost 80 percent of the sight in her left eye shortly before Christmas, casting doubts on whether the Brit would make it to Vancouver.
Team doctors found that Minichiello was suffering from retinitis, with the Brit admitting it was "just a random thing".
She said: "Over the course of about four or five days I went from having full vision to losing 80 per cent of the sight in my left eye.
"It was just a random thing and one of the hurdles we have had to overcome this season. It has made us more focused."
Focused
After two sessions of laser eye surgery, Minichiello was able to complete the women's two-man bobsleigh Olympic qualification and the world champion is full of confidence.
She said: "We are world champions and that gives us confidence that on our day we can beat anybody in the world."
Team-mates Paula Walker and Kelly Thomas have also qualified in the bobsleigh and join what is expected to be the biggest Winter Olympic team since 1992.