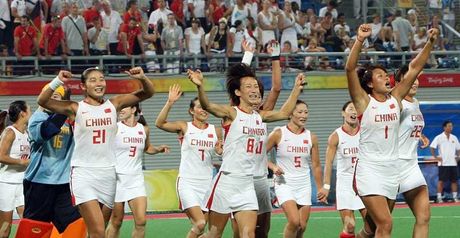 The Chinese players celebrate
China has advanced to the final of the women's hockey tournament by surprisingly defeating the Olympic champions Germany 3-2, and they now face Holland for the gold medal.
The nervous German side made countless defensive errors and were subsequently beaten by the underdogs.
"We were unlucky with our defending and we lost the plot. We are going to be really devastated tonight but we will focus on getting the bronze," said Germany's Fanny Rinne.
The home team delighted an energetic crowd of 10,000 by fighting back from a losing position twice. Both teams attacked right from the start.
But in the 58th minute Zhao Yudiao scored the winner by hitting in a pass from the right flank after Fu Baorong broke through the German defence.
Delight
"Good, very good, we deserved to be in the final," China's delighted South Korean coach Kim Chang-back told AFP.
"It does not matter who joins us in the final. We are ready for anyone."
The match was a repeat of the semi-final in Athens 2004, where China lost 4-3 in the tie-breaker after a goalless draw. Germany eventually won the gold and China finished fourth.
The Dutch were far too strong for Argentina in the other semi-final, with a hat-trick from the in-form Maartje Paumen helping them to a commanding 5-2 victory.
All of Paumen's goals came from penalty corners as she moved on to 11 for the tournament - the next best for Holland being just two.
The South Americans were hardly in it as the Dutch powered into a 5-0 lead, and they only grabbed two late goals as Holland were easing off the gas.
Holland are unbeaten so far in the Olympics and will be favourites for Friday's final, but the Chinese have home support and some fine attacking talent and will pose a big threat to the top-ranked Dutch.