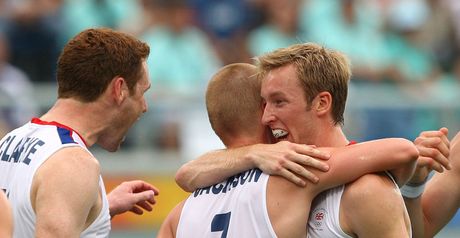 The British celebrate one of their four goals
Head coach Jason Lee hailed Great Britain men's "brilliant start" to the Olympics after they saw off Pakistan 4-2 in their opening match.
Lee's side never looked back after scoring inside the opening minute through Surbiton's James Tindall - a goal the coach almost missed.
"It was a brilliant start. I had hardly settled into my seat in my coaching box (in the stand) when we scored and I got told off for shouting too much," said the former GB international.
"We scored early in the Olympic qualifying tournament final against India (in Chile in April) and today felt a bit like that.
"It certainly helped ease the nerves because we were nervous, to say the least."
Comfortable
The lead was doubled In the 14th minute when captain Ben Hawes drove forward and found Surbiton team-mate Rob Moore who drilled a reverse-stick shot into the corner.
Ashley Jackson increased Britain's lead with a high drag-flick from a 28th-minute corner.
With keeper Alistair McGregor in fine form, Britain were looking comfortable.
But Shakeel Abbasi tapped-in at the far post to make it 3-1 and then Muhammad Waqas cut the deficit to one, pouncing on a mistake from Ben Marsden.
However, the nerves were settled with nine minutes left when Richard Mantell's penalty corner rebounded to Matt Daly who drilled home to secure the points.
The victory was Britain's first Olympic win over the former Asian giants since 1952.