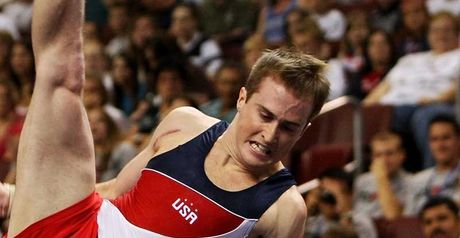 Hamm: Ankle problem
American gymnast Morgan Hamm joined his brother Paul on the sidelines after he was forced to pull out of the Olympics with an ankle injury.
The news is a huge blow to the USA team after defending all-round champion Paul was forced out with a hand injury prior to the team leaving for Beijing.
His twin brother was then expected to lead the team in China but he too has succumbed to injury, but now they find themselves woefully short of experience.
In fact, Hamm was the only member left of the team that won silver in Athens four years ago, and the US gymnastic team will now be fully made up of Olympic debutants.
Struggling
Hamm has been struggling with the ankle for some time, and was controversially included in the team for Beijing despite failing a drugs test at the US trials.
The gymnast had an anti-inflammatory injection in his ankle but did not get prior permission, which is required under law to stop him failing a drugs test.
After training on Wednesday, Hamm landed awkwardly on the floor and hobbled away from practice, and has now been forced to give up on the Games.
"I have been dealing with this for the last year and it recently has gotten worse here in Beijing," Hamm said in a statement.
"Right now I am unable to perform my tumbling skills at the level I need to.
"This has an impact on my ability to contribute to the team's goals and I believe by continuing I would be putting myself at further risk."
Sasha Artemev and David Durante are the remaining two alternates in the USA team, who have not yet named a replacement for the latest Hamm injury.