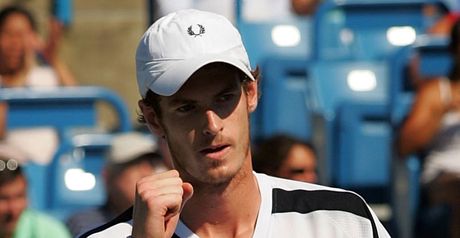 Murray: Heads to Beijing in form
Olympic hopeful Andy Murray will look to follow in the footsteps of childhood hero Andre Agassi when he heads to Beijing.
Murray was just nine when he watched Agassi's gold medal win over Spain's Sergi Brugera in Atlanta - however it remains one of his first Olympic memories.
Now 12 years on, Murray is keen to emulate Agassi's exploits.
He said: "When I was younger I used to watch the track and field a lot, but for me seeing Agassi win gold was awesome.
"It's an honour and a privilege to get this opportunity and hopefully I can replicate what he did when he won his gold medal.
Fantastic
"To get the opportunity to take part in such a huge competition is fantastic. I'm really looking forward to it."
Murray will arrive at the Games on the back of his Cincinnati Masters triumph - and the British No.1 knows he is peaking at the right time.
"I'm feeling good. All the world's top players are going to be there but on my current form there's no reason why I can't challenge for a medal," he explained.
"It's a big sacrifice but to be involved in the Olympics is a rare opportunity. Very few athletes can say they have done it in their career and I think I'm playing enough to do well.
"It's going to be tough for everyone after this tournament in Cincinnati but you just have to give yourself the best schedule and try and do your best."