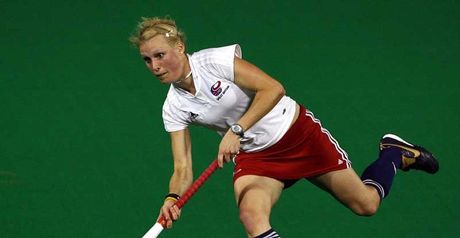 Danson: Twisted ankle
Great Britain's women's hockey team have been dealt a potential blow ahead of the Beijing Games after influential forward Alex Danson suffered a twisted ankle.
The 23-year-old picked up the injury during a 2-0 win in a training game against New Zealand in Hong Kong on Monday.
Danson is set to undergo a scan to assess the extent of the damage.
Head coach Danny Kerry admitted it was too early to make predictions as to how long Danson might be sidelined.
Nevertheless, he did admit her absence would be a blow to their aspirations in Beijing.
Britain's women open their Pool A campaign against current Olympic champions Germany in just under a fortnight's time.
"It would be a bit like losing Wayne Rooney just before a tournament," Kerry said.
"She's our highest outfield goalscorer. She was just running and went over on her ankle.
"The consultant radiologist that is here will have a good look at the scan and then we'll know more but until then we really don't know a great deal. It's difficult to say much more than that.
"She was in pain but today she is in good spirits and she feels a bit better. A lot depends on her initial scan but we have an absolute first-rate medical team."
Matches
Despite the potential setback, Kerry insisted Great Britain had to play warm-up matches immediately prior to the Games.
"We can't come here for three and a half weeks and then play the first game (at the Olympics) without playing," he continued.
"New Zealand are up the road, there's no other opposition and so we had to take the opportunity."
Recent victories over Germany, Holland and Argentina have raised hopes the 2008 team have the potential to emulate their 1992 counterparts.
Sixteen years ago, they secured Britain's only medal in the women's game - a bronze - in Barcelona.
However, Kerry stressed that little could be taken from the warm-up encounters.
"Those matches prior to the Games are just smoke and mirrors," he said.
"Teams are holding back, not doing set pieces and not putting their foot on the gas. It's nice to win them but the girls are experienced enough to know they're meaningless until the main event."