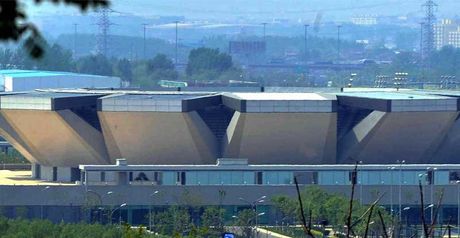 The brand new Beijing Olympic Green Tennis Court (located at the Olympic Green) was specifically built for the 2008 Games and was designed for natural ventilation to ensure the quality of the competitions for athletes and spectators.
Venue: Beijing Olympic Green Tennis Court Location: Olympic Green Type: New Olympic Events: Tennis Floor area (sq m): 26,514 Permanent seats: 17,400 Groundbreaking date: March 23, 2007
The 'fan friendly' three courts hold a total of 17,400 spectators including 10,000 seats in the main court; 4,000 seats in the No. 1 court; 2,000 seats in the No. 2 court; and 1,400 seats in the seven preliminary competition courts at the No. 2 platform.
In 2009, the Olympic tennis and Paralympic wheelchair tennis competitions will be held at the Centre.
Taking into account the small size of the tennis ball and its high speed, the architects have designed steep stands which give the spectators the best sight line, according to chief architect Zheng Fang.
The seats for people with a disability are installed alternatively with ordinary seats enabling disabled people to sit side-by-side with whoever they want to watch the competitions.
The natural ventilation concept was introduced in the design of the centre to solve the problem of high temperatures, and this is unprecedented in the history of Olympic tennis courts.