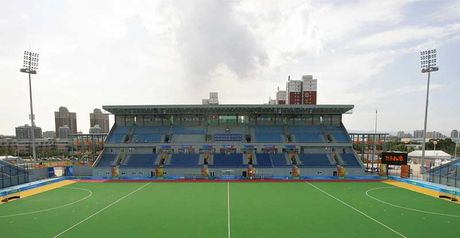 The Beijing Olympic Green Hockey Field is one of nine temporary venues erected for the Games this year, with the 17,000-capacity facility being taken down after the Olympics and Paralympics.
Venue: Beijing Olympic Green Hockey Stadium Location: Olympic Green Type: Temporary Olympic Events: Hockey Paralympics Events: Football Floor area (sq m): 15,539 Temporary seats: 17,000 Groundbreaking date: December 28, 2005
Situated at the northern end of the impressive Olympic Green, the venue is one of 13 built on the site which will host events in what is the heart of the Olympics in Beijing.
The hockey field sits handily placed at the junction of the fifth ring road in Beijing and the Beijing-Changping Expressway.
Like many of the new stadia built of the Olympics the Hockey Field was christened by hosting a warm-up event with an international hockey tournament successfully held in 2007.
Two state-of-the-art hockey pitches have been built, one with 12,000 seats will which will stage the finals, while a second pitch with 5,000 spectators will be used for the preliminaries.
Two gold medals will be on offer at the venue with a 12-team field in the men's event and 10 sides fighting it out for the women's title.
The field takes up an area of 15,546 square metres and after the Olympics it will play host to the five-a-side and seven-a-side tournaments in the Paralympics before it will then be taken down.
Together with the nearby archery field, which is also a temporary structure, the combined 21 hectares will be turned into the Olympic Forest park after the Games as Beijing attempts to promote more of a environmentally friendly outlook with so many doubts over the city's pollution.
Solar energy will also be used to heat the water for the facility, while the air-conditioning system inside the buildings has also been made as ozone-friendly as possible.
The man-made turf covering the pitches has passed the International Hockey Federation's inspection for retaining water despite the arid atmosphere in and around Beijing - which was the biggest challenge for the constructors of the venue.
Now the best hockey facility in the whole of China, which took two years to build, the Hockey Field will enjoy just one summer in the spotlight before being consigned to history.