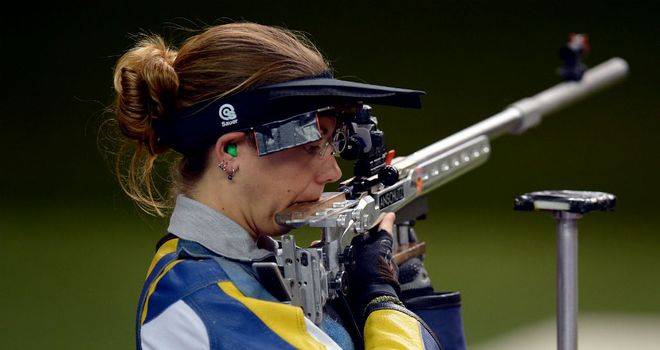 Jamie Lynn Gray: Took gold for the USA
America's Jamie Lynn Gray eased to victory in the women's 50m rifle final on Saturday, setting a new Olympic record of 691.9.
The 28-year-old finished fifth in the event four years ago in Beijing, but, was dominant throughout, shooting just two points shy of the world record in qualifying.
Serbia's Ivana Maksimovic was 4.4 points behind in the silver medal position and Czech Adela Sykorova took bronze. World number one Barbara Engeder of Germany, who scraped through qualifying after a shoot-off, finished sixth.
Earlier Team GB shooter Jen McIntosh finished 42nd out of the 46 competitors, going out of qualifying with a score of 570 from a possible 600.
"The conditions weren't too easy but I should be able to cope with that by now," McIntosh said.
"You win some you lose some. It's pretty tense out on the range with some high scores. I know what to expect.
"But I enjoyed it, I really enjoy shooting. I'm kind of glad that it's done now - I felt like I performed well overall and did everything I could and that's all I can ask."
World number two Sonja Pfeilschifter of Germany was a shock exit from the competition in qualifying as was highly fancied Czech Katerina Emmons.
Britain's Charlotte Kerwood also failed to make her final in the women's trap shooting.
The 26-year-old from Sussex was in the crowd at the Royal Artillery Barracks on Thursday to watch Peter Wilson win gold in the double trap.
But she was unable to emulate her team-mate with a poor second-round score of 19 from 25 shots ultimately costing her.
Kerwood eventually finished with a three-round score of 64, while Italy's Jessica Rossi led the way with a perfect 75.
Kerwood admitted she lost her way in the second round, but vowed to be back in Rio in four years to attempt to match Wilson's achievement.
"I was thinking about the end result rather than one clay at a time," she said.
"I realised in the last round I could put that right and shot a bit better.
"Peter is a really good friend as well as a team-mate and watching him win the gold here has been the highlight of my trip.
"I love watching him and was really, really pleased for him. And I hope I'll be doing that in Rio and everyone will be cheering me up on the podium."