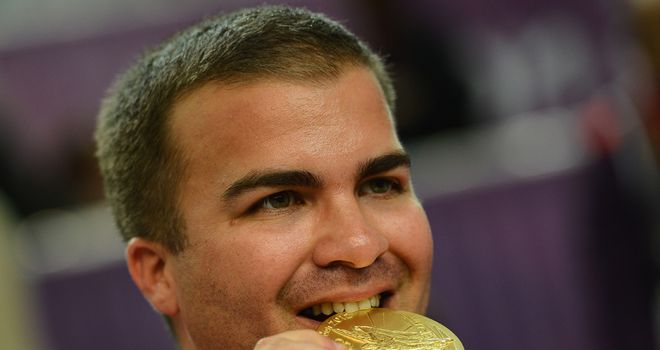 Leuris Pupo: Surprise winner
Two world records were broken in the shooting competition as Cuba's Leuris Pupo won a shock gold at the Royal Artillery Barracks on Friday.
First, Sergei Martynov of Belarus ran away with the gold medal in the men's 50m rifle prone with a world best score of 705.5.
Then world number one Alexei Klimov broke his own qualifying record in the men's 25m pistol rapid fire with 592.
But Klimov's form deserted him in the final and Leuris Pupo, of Cuba, snatched the gold by equalling the Russian's finals record with a score of 34.
For stern-faced Martynov, victory was finally something to smile about.
The 44-year-old marksman had just two bronze medals to show for his previous five appearances at the Olympic Games.
But Martynov, dubbed 'the man who does not smile', was grinning from ear to ear as he received his medal.
Many of the shooters struggled with the windy conditions in qualifying, but not Martynov, who hit a perfect 600.
He said: "In qualifying the weather was quite passable until my last 10 or 15 shots, then it might have created some issues.
"At other championships I might have been a bit bolder - sometimes you shoot, you miss - but because of the significance of this event I had to tolerate the weather.
Eliminated
"In the final I was encouraged by the differential between myself and fourth place. When it was about five points it gave me some security to make my final shots."
Belgium's Lionel Cox, an amateur shooter, took silver with Rajmond Debevec of Slovenia winning bronze.
Pistol shooter Pupo landed Cuba's first gold of the games after Klimov, who opened up the final with a perfect five, fell away dramatically and was eliminated after round six.
Pupo, 35, said: "I would like to say what an honour this is.
"This has been a thorn in my side since 2000, it's my fourth Olympic Games and the feeling I feel is overwhelmed."
Vijay Kumar took silver for India's second medal of the Games, both of which have come in the shooting, and China's Feng Ding won bronze.