A test of mental rather than physical strength, shooters must show extreme powers of concentration and keep a steady hand at the biggest moment of their sporting careers.
Success in shooting can go a long way towards pushing a nation up the overall medal table, with the wide variety of disciplines meaning there will be 15 golds available at the Royal Artillery Barracks in Woolwich.
DID YOU KNOW?
About 12 tonnes of lead is expected to be shot at the London games, with around 275,000 clay targets.
When Abhinav Bindra won the men's 10m air rifle at Beijing it was the first ever gold medal for India at the Olympics.
Latvian shooter Afanasijs Kuzmins has competed in eight separate Olympics from 1976 to 2008.
Miko Andres of the Philippines shot to fame in 2009 when he emerged as the world's youngest practical shooter, aged just six.
Within the 15 events there are three distinct categories - rifle, pistol and shotgun, with each competition presenting a different challenge.
The targets for the rifle and pistol events are positioned either 10, 25 or 50 metres away and resemble ten concentric circles, with the marks getting higher closer to the centre and a perfect score of 10.9 for an absolute 'bullseye'.
The number of shots and time between each shot also varies, with the men's 25m rapid fire pistol involving targets that appear and disappear as quickly as four seconds.
The shotgun events, comprising trap and skeet, are completely different as competitors fire lead pellets at clay targets which are released on the shooter's command.
Relaxation techniques are therefore vital in all disciplines and competitors have the ability to lower their pulse to half its normal rate and fire between heartbeats, maximising their chances of finding a target that can be difficult to see let alone hit.
Like any sport there have been cases of failed drugs tests, with shooters occasionally testing positive for Beta blockers, but this is a problem that will hopefully not resurface in London after blighting the Beijing contest when double-medal winner Kim Jong-su was disqualified.
The shooting medals will be among the first handed out in London and home hopes are high despite the high level of competition.
History
The evolution of shooting as a sport spans centuries and astonishing feats of marksmanship can be guaranteed in London.
Records dating back to the 1400s show clubs in Eastern Europe that engaged in shooting as an organised hunting activity, while popularity exploded following the formation of the American National Rifle Association in 1871.
When Athens arranged the first modern Olympic Games in 1896 shooting was very much one of the main attractions, providing spectators with the opportunity to marvel at breathtaking displays of accuracy.
There were only a handful of medals up for grabs back then and shooting was a terrain reserved exclusively for men, with the host nation Greece dominating alongside USA.
More countries participated in Paris four years later, when the competition was notable for including events such as live pigeon shooting and aiming at running game.
There was no shooting at the 1904 Games in St Louis or the Amsterdam Olympics in 1928, but otherwise it has been an ever-present feature.
Women were first allowed to enter in 1968 and initially competed against men, until it was decided in 1996 that events should be separate.
Interest has continued to grow in shooting over the years to such an extent that it is now enjoyed all around the globe, with over 100 nations taking part in the qualifying tournaments for London.
The sport continues to develop with advances in firearms technology and the manufacture of weapons and ammunition, leading to an increase in standards.
The key ingredients remain the same as they were in Athens 116 years ago, though, with shooters required to demonstrate precision under pressure.
Best of British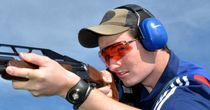 Peter Wilson will be determined to earn a place on the podium in London
Peter Wilson: A young shooter with considerable potential, Wilson has already shown that he can compete with the best marksmen on the planet.
He claimed silver in the double trap at the 2011 World Cup and will be determined to finish on top of the podium in London.
Elena Allen: Another competitor who performed admirably at the World Cup in Chile, Allen just missed out on the medals after placing fourth in the women's skeet. The Brits are set to be strongly represented in this event and Allen has an excellent opportunity to enjoy success.
Charlotte Kerwood:
Kerwood emerged as a rare talent by winning Commonwealth gold in 2002 at the age of just 15. Her preparation is also meticulous, having trained in Kuwait and worked with a psychologist during the winter, so rivals better beware in 2012.
Olympic greats
Karoly Takacs: The greatest story in shooting history surely revolves around the remarkable Takacs, who had his right arm blown off by a grenade during army training in 1938. The Hungarian was not prepared to accept that his shooting career was over and taught himself to compete left-handed, winning two gold medals at the London Games ten years later.
GLOSSARY OF TERMS
Crossfire: A shot that is fired at the wrong rifle or pistol target, usually that of an adjacent shooter.
Firing line: The line where competitors position themselves to shoot their targets.
Lost: A shotgun target that has not been hit.
Shoot-off: A form of tie-breaker in a shooting competition.
No bird: An illegal shotgun target, usually because it is broken when it emerges, is not propelled or is released before the shooters call.
String: A series of shots - usually five or ten.
Three positions: Rifle events that require competitors to shoot in the prone (lying on their fronts), standing and kneeling positions at a distance of 50m.
Ralf Schumann: A shooting legend, Schumann won three golds and two silvers with his pistol between 1988 and 2008. A big favourite for every competition he entered, it was a huge surprise when the German only finished fifth in the Sydney Olympics.
Marina Logvinenko:
The only woman to win two gold medals at the same Olympics, Russian great Logvinenko was the pistol queen of Barcelona in 1992. Shea had already got one bronze under her belt from 1988 and claimed two more medals in Atlanta 1996.
Ones to watch
Vitaly Fokeev: A formidable Russian who will line up in direct competition to British hopeful Wilson, Fokeev broke the world record to win the World Cup in Chile. He has competed at the past two Olympics without really distinguishing himself, but could set the London Games alight if he hits top form.
Niccolo Campriani: The young Italian prospect became the first person to officially qualify for London back in August 2010 when he breezed through a qualifying event with a stunning score of 599 out of 600.
He has really made the breakthrough over the past couple of years and will start as favourite for the 10m air rifle.
Satu Makela-Nummela: Finnish shooter Makela-Nummela claimed gold in the women's trap in the Beijing Games of 2008.
Ominously for her rivals she has since improved, setting a new world record.