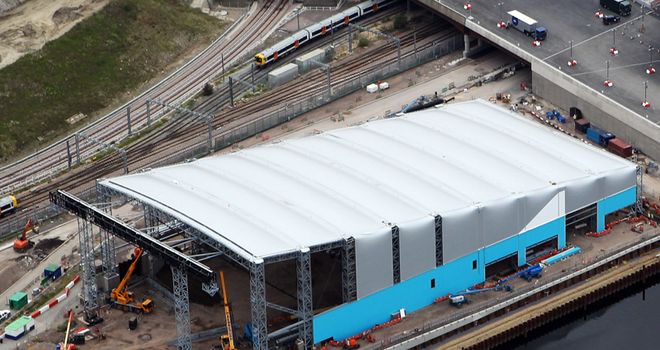 The Water Polo Arena is another of the temporary structures within the Olympic Park which sits alongside the main Aquatics Centre.
WATER POLO ARENA
Sport: Water Polo
Capacity: 5,000 seats
Location: Olympic Park
Located in the south east corner of the Olympic Park in Stratford, the venue will be used solely for the water polo events and will hold a capacity of 5,000 fans for the Games.
Both the men's and women's water polo competitions will take place during the Olympic Games, and the arena contains a warm-up pool and a main 37m competition pool.
The Aquatics Centre and Water Polo Arena are positioned next to each other in one of the most compact areas of the Olympic Park.
The two venues will share some facilities such as catering, security and space for broadcasters to make sure the space is used as efficiently as possible.
The arena has a distinctive silver outside appearance and a ribbed roof made from recyclable plastic, and elements of the venue are expected to be reused or relocated elsewhere in the UK when it is taken down after the Olympics.