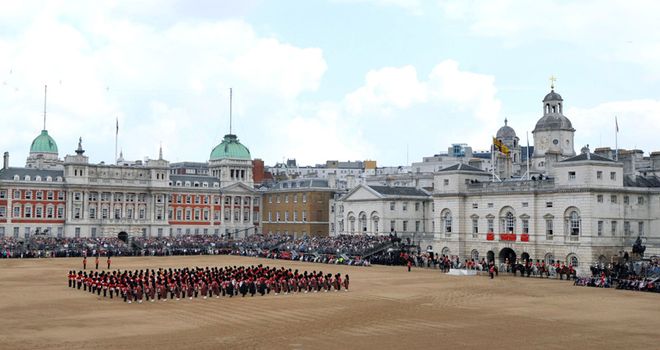 Horse Guards Parade is undoubtedly one of the most historic and colourful Olympic venues.
HORSE GUARDS PARADE Sports: Beach Volleyball Capacity: 15,000 Location: Off Whitehall in the very heart of London.
It is just a stone's throw from the Prime Minister's residence in Downing Street and directly across St James' Park from Buckingham Palace.
Dating from 1745, Horse Guards Parade takes its name from the soldiers who have protected the reigning King or Queen since the restoration of the monarchy in 1660.
The parade ground lies at the heart of London's ceremonial life, hosting the Trooping of the Colour - the event that marks the Queen's official birthday each year.
A temporary arena will be built for the Games, with sand imported especially for the competition.
To the relief of tourists the Horse Guards will move back once it is all over.
Test event: August 9-14, 2011