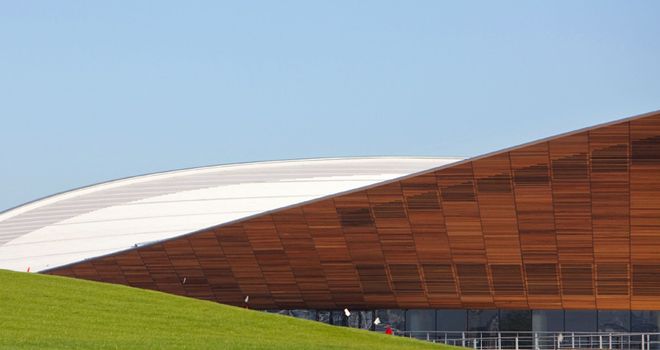 Built on the site of a 100-year-old rubbish tip, the Velopark is made up of a velodrome and a BMX circuit.
VELODROME Sports: Track Cycling Capacity: 6,000 (Velodrome) Location: In the north of the Olympic Park
Each will have 6,000 seats for the Olympics. Those in the velodrome will remain afterwards, while the BMX circuit seating will be removed.
The velodrome's concrete lower tier will have 3,500 seats around the track, with a further 2,500 seats suspended in two upper tiers within the two curves of the roof.
In between the lower concrete tiers and upper tiers is a glass wall, giving spectators a 360-degree view across the Olympic Park.
It will also allow people outside the venue to see the sporting action taking place inside.
The back-of-house area - including broadcast and catering facilities - will be shared with the Basketball Arena to make the best use of space
After the Games, a road cycle circuit and mountain bike course will be added to create a velopark for the local community, local clubs and elite athletes.
Test events: BMX - August 19-20, 2011; Track Cycling - February 17-19, 2012