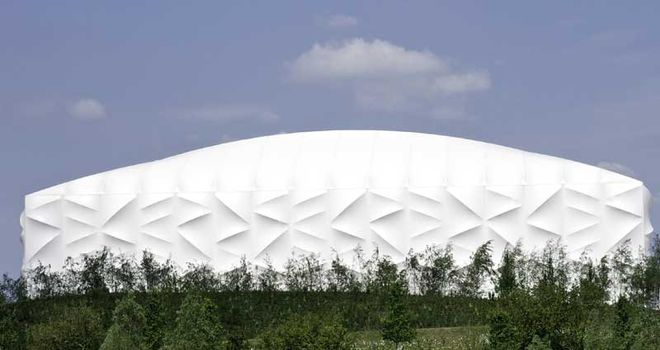 Just over 115ft (35m) tall and with a 1,000-tonne steel frame, the Basketball Arena is one of the largest temporary venues built for any Games.
BASKETBALL ARENA
Sports: Basketball, Wheelchair Rugby, Handball. Capacity: 12,000 (10,000 for wheelchair sports) Location: In the north of the Olympic Park
During the Olympics there will be a period of just 22 hours to convert it from a basketball arena to one suitable for the handball finals.
This will include removing the basketball posts and installing the Handball goals and field of play mat.
During the Paralympics there will be even less time - just 12 hours - to get the arena ready for Wheelchair Rugby after the Wheelchair Basketball competition.
The 'back of house' area will be shared with the Velodrome and BMX Track to make the most efficient use of space and resources.
The Basketball Arena, which cost £60m to build, will be taken down after the Games.
Parts of it are expected to be reused or relocated elsewhere in the UK.