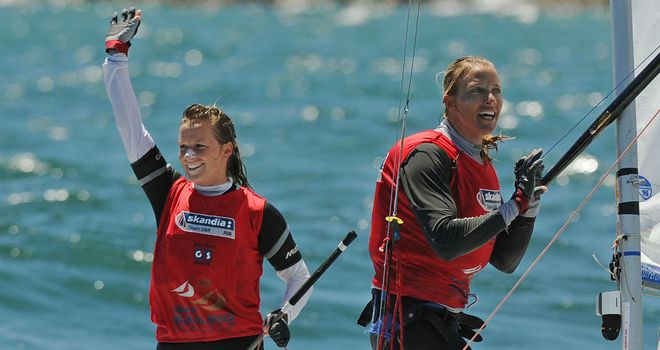 Hannah Mills and Saskia Clark: On course for Olympic success
Great Britain's sailors have topped the medal table at the last three Olympic Games and there is a genuine belief that this summer could be their most successful ever.
Britain is the most decorated nation in Olympic sailing history, having won more gold medals than any other country on the water.
"We feel really happy in the programme we have done over the last few months. "
Saskia Clark Quotes of the week
That tally of 25 will almost certainly be improved at Weymouth Bay and Portland Harbour this summer, where an exceptional calibre of sailors will be at Team GB's disposal.
Stephen Park, Royal Yachting Association Olympic manager and sailing team leader, said: "Performances over the past 12 months have been particularly good.
"We have an incredibly competitive team and we have a team now able to win medals at 2012. All of the work in the background is looking good and we look to be in a strong position.
"We're going to have to be in the strongest position for the most competitive event of our lives because there is absolutely no doubt that every other country is trying to win those medals.
"It is more competitive than ever in the world of Olympic sailing and we'll have to give our best in every aspect of our game if we really want to hit our targets and bring home some medals for Britain."
Blend
Britain head into the Olympics with a realistic chance of securing a medal in all ten classes, with an exciting blend of youth and experience. This varies from three-time gold medallist Ben Ainslie to Olympic debutant Alison Young.
Park added: "As we go into the Games, I can honestly say hand on heart that we've got people who've got potential to medal in every single event.
"We've never had that before.
"That doesn't mean to say that we'll medal in every event - far from it - but in terms of preparing a good team, the sailors have done an incredible job to date."
That hard work is never more evident than in the women's 470 class, with Hannah Mills and Saskia Clark on course for gold.
The pair joined forces in February 2011 after the later's former partner, double Olympic gold medallist Sarah Ayton, retired citing the difficulty of spending time away from her family.
Astonishing
Since this, their progress has been nothing short of astonishing, ending with victory at the women's 470 World Championships in May - becoming the first British sailors to do so.
Clark, preparing for her second Olympic outing, added: "We feel really happy in the programme we have done over the last few months and the improvements we have made.
"We are really happy as a team and with our coach so we are just excited for the Games."
Olympic debutant Mills added: "The nerves haven't really started yet.
"The spotlight is never really going to be on us as it is sailing at the end of the day - and if the spotlight is on sailing, it will be on Ben."
While Ainslie may be the only household name at present, it will not be a surprise if the likes of Mills and Clark become Olympic stars this summer.