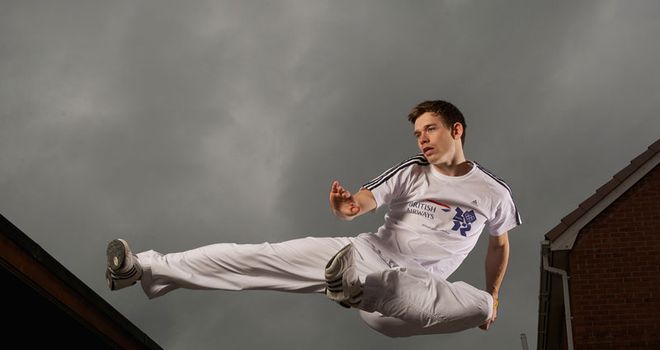 Aaron Cook: In fine form of gold medals
Aaron Cook has been busy picking up wins left right and centre this year, but on a rare break from competing he told Sky Sports that London 2012 gold is the only one he wants.
Cook is one of Britain's top medal hopes this summer and he is certainly in fine form with three taekwondo Open gold medals this year to his name.
Wins in the US, Dutch and Belgian Open events have put Cook right on course for London glory, and although now he has sponsorship and media commitments he makes no mistake that training is his top priority.
"I'm doing a few more media and sponsorship things but that's what my agent's for, she keeps me informed of everything and make's sure I'm not too busy," the Sky Scholar told us.
"I've got to keep the balance and training's the most important thing but I've just come back from a competition at the weekend so I've got a bit of downtime and have a few little injuries so it's good timing at the moment."
Contender
And the result of that competition was a big win over Argentinian Sebastian Crismanich, who will be a major contender for Olympic gold.
"I went to Belgium which will probably be my last Open before the Olympic Games and managed to win gold. I had five fights and beat the Argentinian fighter, who's going to be one of the favourites for an Olympic medal and managed to beat him 15-10 in the final.
"It was a fantastic result and a really good day and my confidence is really high at the moment and I just can't wait for the Europeans in May.
"This year I've won three Opens so it's all going really, really well at the moment. I know I have the ability to win every competition I enter, it's just at the moment training's going really well and everything's just clicking at the moment and I'm just focused and looking forward to the Olympics."
Taekwondo is a physical contact sport and every competition results in Cook having to take care of his battered and bruised feet in particular.
Knocks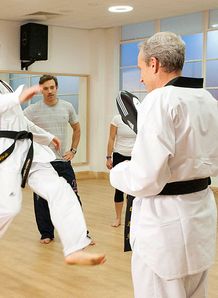 Cook in training
"I've just got a couple of knocks and bruises at the minute, and a bit of swelling, nothing too serious. I'm quite lucky at the moment to stay injury free having had four really tough competitions back to back so I'll just have a little rest and be back training hard for the Europeans and then onto the Olympics.
"I've had all these competitions back to back, I was carrying a couple of knocks and bruises and a bad ankle but now I've got a little bit of time to get them all sorted so I'll be fresh for the Europeans.
"After five fights of really hard kicks, sometimes kicking people's elbows or them kicking you in the arms you can get a bit sore after all that.
"I always put both my feet in a massive bin of ice after competition for half an hour three or four times a day and that normally gets them down, then I get a massage and try and look after my body."
Cook will need to be right at his best for both the Europeans and then onto the Olympics, but the way he has performed already this year he is up there with the favourites to land home gold.
British Airways, the official airline of London 2012 Olympic and Paralympic Games, is proud to support Aaron Cook by flying him around the world as part of his training and racing schedule as he prepares for London 2012.