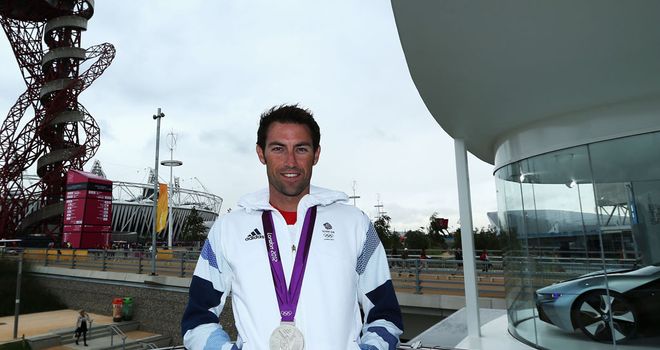 Mark Hunter at the BMW Pavilion on the Olympic Park
Olympic silver medallist Mark Hunter says the pain of his agonising defeat in the men's lightweight double sculls has not gone away.
British pair Hunter and Zac Purchase went into the rowing event as the reigning champions and looked set to defend their title when they stormed out to an early lead in the final at Eton Dorney last Saturday.
But the Danish crew of Mads Rasmussen and Rasmus Quist Hansen reeled them in before edging ahead at the finish line to claim a dramatic victory.
Hunter and Purchase were interested only in the top step of the podium and as soon as they crossed the line they knew they had not achieved their goal.
"We executed the race perfectly, there are no regrets of how we did it or the way we went about it, we just regretted the result we had from it."
Mark Hunter Quotes of the week
"I knew by the beeps, I knew instantly. I got that kind of sinking feeling straight away," Hunter told Sky Sports.
"It was just horrible. Especially for it to happen in front of a home crowd - losing our Olympic title as well as losing on home water, it was extremely painful."
Dejection
After the race the British pair collapsed in their boat with exhaustion as well as dejection and Hunter believes there was nothing more they could have done in their bid to take gold.
"We executed the race perfectly, there are no regrets of how we did it or the way we went about it, we just regretted the result we had from it," he said.
"I'm not going to look over the race yet or watch it again because it's still too painful but there will come a time when I'll sit down and analyse it a bit more.
"But my perspective of how we went out and did it is that we couldn't have done any more."
Although Team GB claimed two rowing gold medals and six Olympic titles in total on 'Super Saturday', the gallant defeat of Hunter and Purchase left an indelible mark on the viewing public.
Hunter added: "The general public, with what we did and how we went out to race because we led for the majority of the race, they've made us feel like winners by all the messages of support."
Mark Hunter is part of the BMW London 2012 Performance Team. BMW is the Official Automotive Partner of London 2012, for more information visit london2012.bmw.co.uk or visit the BMW Group Pavilion at the Olympic Park #bmwpavilion
The fans also left their own mark on the British competitors at Eton Dorney, with the fervent home support willing Britain on to a total of nine medals by the end of the regatta.
Fans
"The crowd and fans have been exceptional, I've never been to a rowing event that's had that many people there screaming and shouting," Hunter said.
"From about 8 o'clock in the morning when you were doing your pre-race paddle, there was thousands of people there cheering Team GB on.
"Then when we came in through the security checks people were clapping and cheering.
"It was just out of this world, I just keep feeling like a rock star everywhere we go, whether it's been competing or just walking around the village or the Olympic Park - it's just phenomenal."
The 34-year-old has not yet made a definite decision on his future in the sport but says he is now going to take a break and assess the situation.
He said: "I'm going to take some time off. There's not a plan for anything now, I'm just recharging the batteries, switching off and trying to have a normal life for a period of time."