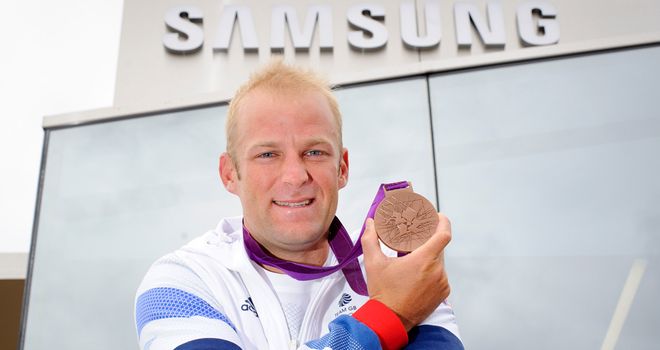 Alex Partridge: Went all out for victory in the men's eight
Olympic bronze medallist Alex Partridge says Team GB can be proud of their effort in the men's eight despite missing out on victory.
The British crew had their sights firmly set on victory in the blue riband event at Eton Dorney, but had to settle for bronze behind Germany and Canada in a closely-contested final last Wednesday.
Partridge, who won a silver medal in the same event four years ago, pushed himself to exhaustion but his crew were not able to add to Britain's rowing gold medal tally, which totalled four by the end of the regatta.
"We raced to win and we left it all out on the water," the three-time world champion told Sky Sports.
"The Germans were just a better crew on the day - they were a better crew for four years but we thought we'd done enough in the build-up to get into a position to win. But we didn't get them to crack."
"We raced to win and we left it all out on the water."
Alex Partridge Quotes of the week
Gold seemed a distinct possibility when Britain edged ahead coming into the closing stages but they slipped back before the end, with Partridge admitting their efforts were spent well before the finish line.
Effort
"That's why I can walk away from the race, and we can all walk away from the race, with our heads up," Partridge said.
"We got to 500 metres to go and we'd basically already done our last 500m before that and I just watched this massive cloud of explosion go up in front of me and we just all kind of blew at the same time.
"If you do that then you can't say that you could have done any more."
He added: "We were level at 1km and that's when the crowd just started going completely bananas and we really pushed hard and we got ahead with 500 to go.
"But fair play to them (Germany), they stayed together and were more drilled and able to carry on whereas we almost didn't make the finish line."
Alex Partridge is part of Team Samsung and is inviting everyone to participate in the spirit of the Olympic Games with the Samsung Hope Relay app and raise money for charities like the Kids Company. To take part download the app now for free at www.samsung.com/hoperelay.
The excitement rose among the home crowd as Britain surged into the lead, but Partridge did not think the race was in the bag at that point.
Plan
"I try not to think like that, I just think, 'right this is what the plan is, keep sticking to the plan'," he said.
"And your body is shutting down as well so it's getting pretty dark and you're just like, 'I've just got to keep the body moving, keep making it up the slide to take the next stroke'.
"One of the guys in the crew, Constantine Louloudis - the stroke man - said he got to 250m to go and was like, 'my body feels like when I normally finish a race, I can't get up the slide anymore, what's going to happen now?'."
Although the fervent support from the stands could not will Partridge and his crew on to gold, the atmosphere at Eton Dorney left an impression the 31-year-old will never forget.
Partridge said: "It was something that I've never experienced before in my life. I've been in the sport for 12 years and the fact there was 20,000 people coming down to the rowing lake every day is just unbelievable.
"I don't think it will be matched ever again."