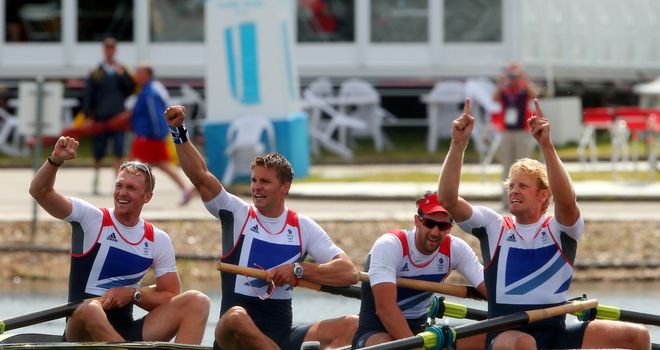 GB gold: Mens four wins another rowing gold for host nation
Great Britain produced a sensational performance to beat Australia and win Olympic gold in the men's coxless fours.
Andrew Triggs Hodge, Pete Reed, Tom James and Alex Gregory led from the start to extend Britain's dominance over the Olympic event to 16 years.
Britain won their fourth successive coxless fours title by a quarter of a length from the Australians with the United States winning the bronze medal.
Britain extended their dynasty in the men's four in stunning fashion, lead Australia from the start before powering to victory in six minutes, 03.97 seconds.
Hodge, James and Reed are all now double Olympic champions, having been part of the victorious crew in Beijing.
Debutant
Olympic debutant Gregory adds an Olympic gold medal to the world championship title he won as part of a different men's four crew last year.
Hodge and Reed moved into the pair after Beijing and spent three years trying, and failing, to overhaul the dominant New Zealand crew of Hamish Bond and Eric Murray.
At the start of 2012, Hodge and Reed moved back into Britain's flagship boat and opened the season promisingly with World Cup victories in Belgrade and Lucerne.
Australia hit back in Munich to take gold and Ginn suggested their tactic of leading from the front "scared the hell" out of Great Britain.
In the end, it was Britain who led from the outset to win a sensational gold medal in the only race that really mattered.
Triggs Hodge described the race as the crew's "masterpiece".
"These guys are the best three rowers Great Britain have, they're absolutely phenomenal," he said. "It was just impeccable rowing. We executed our plan. It was our masterpiece. It took four years to make that.
Training
"Four years training every day, pulling out everything we had. I'm the happiest man in the world. I've been blessed with these guys, I've been blessed with the support of my family and my wife. I'm on cloud nine."
James added: "I knew when we got off the start and we got into a rhythm it was good and it was quick. It just felt good and I felt confident.
"Whatever happened on our right, I didn't care. It was our boat. It just felt good.
"It started raining and I thought, 'this is for us. This is what we do the whole winter, always chucking down with rain'.
"I can't describe what this atmosphere is like. It's beyond words, it's epic, it's magic, it's emotional. The crowd is phenomenal. I'm so excited to be here and so proud."
Reed said: "Double Olympic champion, I can't believe it. You run through everything in your mind before the race, you never think about afterwards.
"The hours we do, the hours, the pain. It's all worth it at the end."
Gregory said: "Everything felt silent in our boat and then we were just in a good position. I didn't look across but I was aware of where we were.
"Everyone says it doesn't feel real - it just doesn't feel real. I can't describe it any better than that."