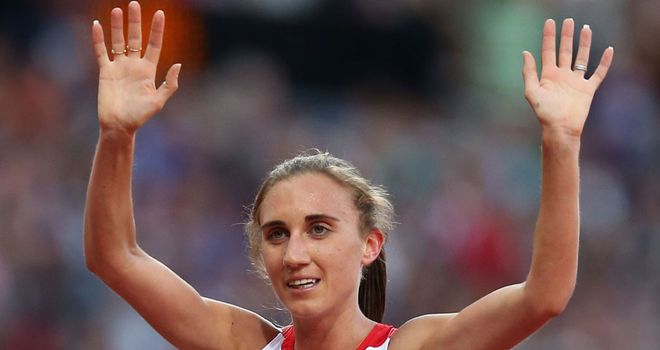 Lisa Dobriskey: Fit and healthy following a string of setbacks
Former Commonwealth champion Lisa Dobriskey is hoping for an injury-free season as she embarks upon her 2013 campaign in Edinburgh on Saturday.
The 29-year-old has enjoyed her first uninterrupted stretch of training since winning 1,500m silver at the 2009 World Championships, overcoming a stress fracture and life-threatening blood clots in 2012.
With a string of setbacks previous to this, Dobriskey still managed to reach the 1,500m Olympic final in London, and relishes the chance to line-up against the reigning Olympic champion and reigning world champion at Holyrood Park on Saturday.
"I must admit I thought it was going to be a lot lower key than it is, but it's always a pleasure to line up against such pedigree," Dobriskey said.
"I am really looking forward to racing as I haven't been able to race at this time of year for a while due to injury, so I'm grateful to be healthy.
"I loved every second of the Games, but I have a pang of regret and sadness when I think back to it. I hoped for so much more but was just not good enough on the day. I feel I got as much as I could out of what I had to work with, but it wasn't what I wanted.
"Touch wood I am healthy and training. I've had to build up slowly after a seven-week break to allow the femur to heal.
"I've had a consistent block of training now and am making progress each day. It's been nice to run freely without the pressure of chasing times or team spots."
Dobriskey, who won gold at the 2006 Melbourne Commonwealth Games, will line-up next to the likes of Olympic 5,000m champion Meseret Defar, 5,000 and 10,000m world champion Vivian Cheruiyot and former world 10,000m champion Linet Masai in the Bupa invitational race.