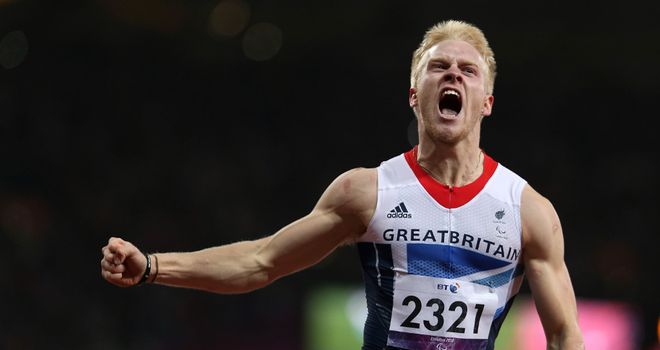 Jonnie Peacock: The Paralympic champion saw his fan page grow over the Games
The London 2012 Paralympic Games proved to be a stellar online success, enjoying record-breaking hits on its website and social media channels.
According to figures released by the International Paralympic Committee (IPC), almost two million people visited the official Paralympics website during the Games - with day one of competition seeing more online hits than the entire Beijing Paralympic Games.
One in six visitors came from the host country, with USA, Germany, Poland and Canada making up the top five visiting countries.
Videos of the sporting action and medal ceremonies uploaded to the IPC's YouTube channel received nearly nine million views, and Google+ and Flickr pages made live before the opening ceremony now have over 50,000 followers and page views.
History
Twitter was also dominated by talk of the Games, with 1.5 million Tweets mentioning 'Paralympics' during competition time.
Such online attention is unprecedented in Paralympic history, and has had a hand in raising the profiles of the athletes.
"Even these numbers have surpassed our expectations. "
IPC'S Craig Spence Quotes of the week
Irish sprinter, and fastest Paralympian on the planet, Jason Smyth enjoyed 2,174% growth in Facebook fans while golden boy Jonnie Peacock, T44 100m champion, saw his fan page grow by 3,258% during the 12 days of competition.
Cyclist Sarah Storey, who took four golds in London, placing her alongside Tanni Grey-Thompson as one of Britain's most decorated Paralympians, saw a 178% growth in her online followers.
The IPC'S Craig Spence said: "We said prior to the Games that we expected London 2012 to be a digital Games however even these numbers have surpassed our expectations.
"By embracing new technologies and media it is not just the IPC who enjoyed astronomical figures during the greatest Paralympic Games ever but so have international sport federations, National Paralympic Committees and LOCOG."