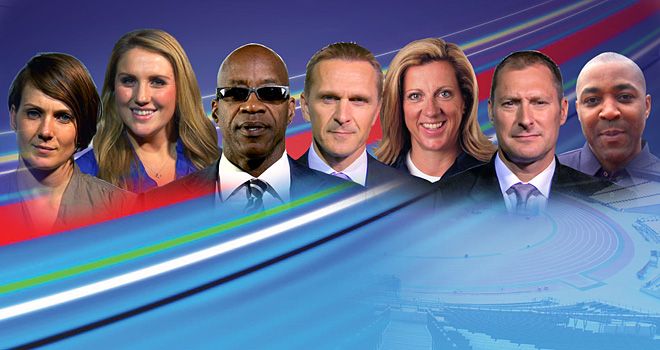 Edwin Moses on Dai Greene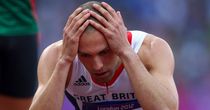 He got into the final and he was very lucky - the luckiest man in the stadium last night. I knew it was going to be a tough race for him and he would of have to run the perfect race. The man who did run the perfect race - Felix Sanchez - won the race tonight. It was Greene's first Olympic Games and it is a hardship and a burden to think you are going to win, He had the added pressure of home advantage but no one is guaranteed a gold medal and very few win the first time around. I think he will have another chance though.
I am happy for Sanchez because coming into the Olympics I would not have thought that he could have won. He is the third person to have won the Olympic title back again - I won in 76 and the came back in 84; Angelo Taylor won in 2000 and then came back in 2008, Sanchez did it is 2004 and now again in 2012. Eight years is a long time but this event take experience and Sanchez demonstrated that he is an expert and a professional and he did exactly what he needed to do when the chips were down.
Sally Gunnell on Perri Shakes-Drayton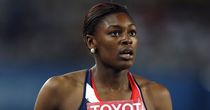 I was in the stadium and she looked great for the first 200, but with 150 to go when the American Demus came up. Perri just looked like she did not have anything more to give. Usually she has so much strength that she would have gone with her but she just looked like she had nothing more. It is such a disappointing time - 55.19 - she has run a 53.7. There was nothing technically wrong with her, sometime you just really have to want it and be hungry. I look at the girls who will run here and I still think she could have won a medal - she is that talented. She was getting herself in shape at the right time too. I just think it goes back to the fact that you have got to focus and you have got to know what you are going to execute out there, you have to have a real strategy and not just go out there and hope. She is young though and she will be back!
Sally Gunnell on Dai Greene
I think he was shaken up after that semi-final, I think he felt he was going to ease through those and get into the final. He's obviously been thinking about it over the last year, about winning that gold medal and that is all he wanted. I think he found it hard to pick himself up and for me personally I just think he didn't over that first 200. I know the others went out really hard and I know he tends to hold back a bit but he was just too far away witha 100 metres to go. He did finish strongly and pulled back a few places on the home straight so the strength is there. It is such a shame because I reckon he could have got the bronze medal.
Suzanne Dando on Beth Tweddle's bronze medal in the uneven bars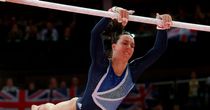 "Beth has the carried the flag for this country and been the queen of gymnastics so to get a medal on her swansong is great, even though bronze isn't the colour we wanted for her.
"Beth stepped back on her landing from the bars but everything else went to plan; it was a brilliant routine. She gave it her all; she performed her elements so high above the bar and really went for gold and could have got it if not for a few little mistakes.
"It would have been agony for her watching three other gymnast go after her as there was a possibility she could have come fourth, just as she did in Beijing in 2008.
"That would have been awful but she's now got a well-deserved medal to add to her Commonwealth, European and World titles. She has given her life to this sport and I want people to remember her for all she has done."
Tasha Danvers on Perri Shakes-Drayton's medal chances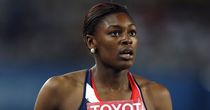 "Perri is a phenomenal athlete and 400m hurdling in this country has been left in fantastic legs with her. I think she will set a new personal best here and being an East Londoner she will get caught up in the flow of the British team's success.
"She has a fantastic chance of getting on that podium as the event is wide open and she is very calm in the way she approaches the sport."
Jon Ridgeon on the women's pole vault final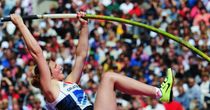 "Yelena Isinbayeva is the two-time Olympic champion and if she turns up in form she should be well ahead as she is capable of breaking the 5metre barrier.
"I think she will be inspired tonight but it is not a foregone conclusion as over the last two years I think she has had motivational problems and she hasn't been at her best. If you look this year she has only jumped 4m 75cm outdoors, a very similar height to Britain's Holly Bleasdale.
"Holly is hugely talented. She jumped 4m 87cm indoors earlier this year - the fourth highest in history - and will be one of a pack of about four of five chasing medals tonight. A height of 4m 75cm will be in the medal zone and 4m 85cm could win gold if Yelena doesn't jump well.
"Holly is more than capable of that. However, she hasn't quite been there this summer and for a 20-year-old, with the technical nuances of the event and a massive home crowd, a lot will be going on in her mind.
"We also have Lawrence Okoye in the discus final on Tuesday night. He is built like a Greek god but is just 20 years of age in an event that suits people in their 30s due its technical nature. He is learning his trade and is very inconsistent but if he hits one well he could get a medal for Team GB."
Marlon Devonish on why Usain Bolt dominates the 100m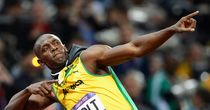 "What tends to happen with a taller athlete is that they tend to be slower out of the blocks and quicker towards the end, but Usain has the ability to be in the mix with the shorter athletes that get out first and then get away from them in the latter stages, which is amazing.
"Plus, he takes 41 strides to run 100m whereas sprinters like myself would take 45 or 46. He is in phenomenal shape and has worked on technical aspects with his coach - before the Olympics his start was where he was faltering - but he is also an expert at staying relaxed.
"If you look at someone like Asafa Powell, he is amazing in the first and second rounds of championships but in finals it is like he is lacking mentally as he gets tight and chokes. But Bolt is an expert; he plays games and takes things in his stride, which in that environment, with 80,000 people watching, is incredible.
"You can't think before you run otherwise it becomes a conscious thing and that makes you slow, running fast needs to be subconscious and completely reactive and Usain has that down to a tee. If it was warmer in the Olympic Stadium, I think he might have gone even quicker [than 9.63secs].
"I thought whoever won the 100m would win the 200m but Yohan [Blake] might get close to Bolt. I'm not sure France's Christophe Lemaitre will come third, though; America's Wallace Spearmon could be in the mix, while someone else who might upset the party always gets to the final."
Michael Holding on the success of Jamaica's sprinters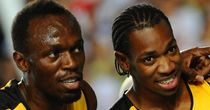 "Bolt was fantastic and we must not forget the second fellow Yohan Blake either. We are very proud nation and when you have someone who is fastest in the world - not just once but doing it twice - that is not a fluke.
"A lot of Jamaican athletes used to go to US colleges and used to get burnt out but now we have decided to keep them and train them at home and they have been doing very well at the highest level. The results have shown that over the years, not just the men but with the women athletes as well. [Shelly-Ann Fraser-Pryce took gold in the women's 100m at London 2012]."
Darren Campbell on Adam Gemili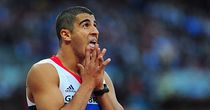 "I like Gemili's temperament and I like that he wasn't happy that he didn't make the 100m final. A lot of youngsters would have thought: 'I'm only 18 and I've ran quickly', but he was disappointed. I told him not to worry, though, as it was a learning curve and he would never be that nervous again in a Championships.
"What normally stops sprinters from going to that next level is not training but mentality and what they believe when they stand on that line; I never ran under 10 seconds in the 100m or 20 in the 200m but I never believed I couldn't win.
"Adam's technique is good and it is a case of him slowly getting that physical strength; if you're going to mix it with the big boys you need to bulk up just a little.
"He needs to do that slowly, though, because if you bulk up too quickly your technique changes; he just needs to gradually add things. He has got plenty of time and if we don't rush him he could be superstar.
"As for Bolt, after transcending the sport and taking it to a level that nobody else has taken it to, it is very difficult to say he is not the greatest."
"That's not just because of the times but the way he handles himself; he is a global superstar. That adds a lot of pressure but on Sunday night he delivered everything and silenced the doubters who didn't think he could retain his title.
"He has spoken about becoming a legend and he feels winning here would help him define himself as one. It all bodes well for the 200m."
Adam Smith on Luke Campbell, who's guaranteed a bronze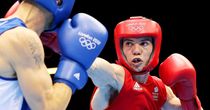 "Luke's quarter-final was so exciting. He wasn't great in the first fight he had - a little, scrappy and nervous; he's got so much talent but he needed to relax a little bit because he was a little pent up. But last night I thought he was absolutely terrific.
"He had a really tough ask against Detelin Dalakliev but he did well to get through. He finished it so well in the third round. I said he was my tip for a gold or silver and I stand by that. He's got the easier draw in the semi-finals against Satoshi Shimizu and I think he'll get to the final at the weekend and I'm hoping he'll win gold."
Jon Ridgeon on Dai Greene's chances in the 400m hurdles final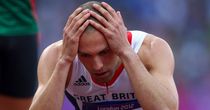 "I don't know what went wrong with Dai Greene in the semi-final. I've spoken to some of the British coaches over the last couple of days and they don't know either. He's come in ranked second in the world, he was a big GB gold medal hope in the 400m hurdles but he just didn't step up. A number of athletes did and he scraped through as one of the slowest qualifiers.
"But the reality is he's there now so let's see how mentally tough he is. He has to put that disappointment behind him and run the final.
"When he finished his semi-final he thought he was out. He applauded the crowd and looked shell-shocked and walked off thinking that's the end of my Olympics. But he's got a second chance, and thank goodness.
"You don't become a bad athlete over night. He's drawn in lane three so all his main rivals are outside of him. To get a medal he's going to have to run under 48 seconds. He's done that before and is capable of doing that.
"To get a gold medal he's probably going to have to break Kris Akabusi's 20-year-old British record of 47.82 seconds.
"The critical phase will be how he runs the second bend. He starts conservatively and will probably be sixth or seventh at halfway but at the start of second straight he needs to be in contention and within two or three metres of the leaders.
"Then, down that home straight, that's where he needs to be really strong. That's where he can make big gains on the field and where, you hope, 80,000 spectators all screaming his name will make a real difference."
Look back at what our experts had to say on day nine
Look back at what our experts had to say on day eight
Look back at what our experts had to say on day seven
Look back at what our experts had to say on day six
Look back at what our experts had to say on day five
Look back at what our experts had to say on day four
Look back at what our experts had to say on day three
Look back at what our experts had to say on day two