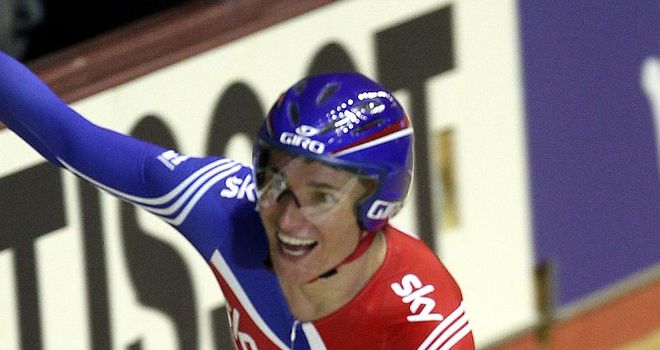 Sarah Storey: Off to Colombia for World Cup
It has been a quiet few weeks for me on the blog front, but that is not because there has been a lack action or cycling!
National Track Championships provided some exciting results, a couple of PB's and also a successful defence of the Team Pursuit title. It was a good finish in my last race for the Horizon Fitness Prendas team, and since then I have been looking at the final build up to the London Games next year and looking at the various options I have in preparing for what will be a double road and track summer in 2012.
After heading out to Apeldoorn to support the girls as "man four" in the team's successful defence of the European Team Pursuit Championships I got home to a solid block of work on the road and the continuation of the strength and power. We have been blessed with some amazing weather for this time of year and I am very surprised that I haven't yet needed my full on winter jacket on any training rides yet.
Living on the edge of the Peak District and a short ride from the Cheshire lanes, I am lucky to have a whole host of great roads for training and a real mix of training routes I can do. For me the training has been a real success, gaining strength in the lab and working with a whole range of gears on the track for two specific sessions aimed and harnessing more speed and transferring my lab strength into a better start. Having so many events to think about is great especially when sessions like these will have relevance for all of them.
Training out on the road has developed into a real love of mine and I am well known for loving the long hilly rides the Peak District has to offer! Since earlier in the summer of this year I have had a new adaptation to my road handlebars which gives me greater control out of the saddle and allows me to work on some dynamic core strength whilst climbing on some of the steeper roads we have in the Goyt Valley.
Race-ready
All of this training has led me back into the fold of the Team Pursuit group and a short block of work together on the London Velodrome which is what we have been doing this week. Having visited the Olympic Park on three other occasions, with the most recent visit being in September for my first ride on the track, it has been great to be back and also to see the place through the eyes of a Team Pursuiter. Following on from our final session, we'll be heading straight to the airport for the long flight over to Cali, Columbia and the 2nd round of this season's World Cup Classics.
Off the bike the past few weeks have been great fun too and I have been lucky to be able to do a few exciting events with some of the Olympic and Paralympic sponsors.
Links of London have got their "Genuine Belief" campaign in full swing with one of the first pieces of merchandise that is uniquely for Team GB at the Olympic Games. The "Team GB Band" is a friendship bracelet and worn by athletes and supporters alike to show the importance of support at a Home Games. I had the opportunity to spend a day doing some interviews with various publications and talked about the excitement around having so many Union Flags in the crowd.
The final and potentially most embarrassing appearance was my filming date for Celebrity Mastermind which will be shown during the Christmas and New Year period. The result and content of the programme are, for obvious reasons, a secret, and the main reason for the visit was to promote the two local charities I am involved with. Both Barney and I are patrons at the Children's Adventure Farm Trust which is an amazing children's charity based in Cheshire and the second was Boot Out Breast Cancer which is just 12 months old as a charity and set up to raise funds for buying vital diagnostic equipment. Both charities are very dear to my heart and both entirely reliant on the generosity of the people who support and donate to them.
It's been an exciting few weeks and with the form in training looking strong and some good steps forward in some of my weaker areas, I am looking forward to racing in a country I have never been to before.