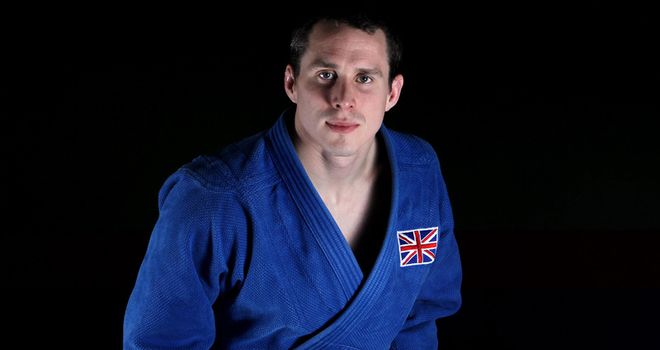 Euan Burton: Looking forward to 2012
Hi everyone, I'm just back from an Asian tour and although Christmas is coming and the jet lag is knocking me for six a little there's not much time to relax as i have another big test on the horizon early in 2012.
Before I talk about next year let me give you some 'match reports' from the tournaments in Japan and China. The first event was the Tokyo Grand Slam.
I won my first fight within 30 seconds which was a good start to the day. My Fijian opponent gave me an opening on the ground and I managed to execute my favourite newaza (groundwork) technique to strangle him into submission.
In my second match I was up against the number one ranked Italian player who I had defeated in the final of a European Cup tournament two years ago.
The fight was pretty close with his extreme left and my extreme right handed styles negating each other for the first few minutes. From half way I began to dominate the gripping exchanges and was feeling confident but was caught when he lured me in to attacking him and countered the throw. It was a frustrating end to my Japanese campaign because I was definitely in the ascendency, but it's one of those things that happens in judo and you have to learn from it - I was certainly feeling better in Tokyo than I had in Amsterdam a few weeks before.
After a tough couple of days training on the international camp which followed the Grand Slam the 5 strong GB team headed over to the final IJF World Circuit event of 2011, the Chinese Grand Prix. I ended up placing 5th and getting to the 1/4 finals which was a satisfactory, if not fantastic, end to the season.
I beat a tough Mongolian athlete in the first fight in china. It was a hard-fought battle, as they always are against the Mongolians, they are a true warrior nation and I was pleased to make it past him.
In my next match I had the Argentinian number one who I have met at big events regularly over the past 4 or 5 years. I submitted him with an arm lock with my ground game coming good again and the victory saw me through to the quarter final. Waiting there for me was Ivan Nifontov, the former European and World Champion.
Late loss
The fight was even until ten seconds from the end when I thought I was dominating and he looked, and felt, like he was out on his feet. I felt so in control I just thought 'I'm going to bash him over' but I was a little foolhardy because with the Russians if you close the space they are so dangerous. Nifontov proved this when he countered my attack to win it in the dying moments.
The loss was tough particularly as i knew i had the fight within my reach but I've not fought him before in a tournament and it was a match I wanted to get before the Olympics. He is going to be in and around the medals come London and feeling out an opponent in training can be vastly different to contest. So although I lost I'm pretty positive I'll win the next time and I hope the next time will be for a medal in London.
As I said at the start there isn't much time to relax over the festive season. It's just three weeks now to the World Masters in Kazakhstan, where the top 16 players in the world at each weight will battle it out for huge ranking points and the chance to call themselves Masters Champion.
When you consider the Olympics will be 32 players at each weight the Masters is a fairly accurate representation of what the 2nd round of the Olympics will look like. The best 16 in the World, all aiming for ultimate glory.
So the Masters is about as close to the Games in terms of pressure and quality of opponent that I'm going to get. It doesn't get any better or any tougher so I will try to use the tournament to replicate the Olympic feeling if I possibly can.
New surroundings
It's also refreshing to be going to a country that I've never been to before. When you have travelled the globe fighting for the national team for well over a decade as i have done you cover an enormous variety of countries and cultures. Each time your journey takes you to a new destination there is always a heady mix of anticipation, intrigue, excitement and nerves! I've never been to Kazakhstan before so it'll be interesting to see what the country, the stadium and the fans are like.
I know a lot of the Kazakhstan team and if they are anything to go by the country will be a wonderful mix of truly tough and fantastically friendly. I can't wait.
After Kazakhstan there are GB trials, Paris Grand Slam and Dusseldorf Grand Prix all before the end of February so it will be go, go, go and although the Olympics are fast approaching you just can't take your foot off the gas.
Judo's the type of sport where you could conceivably get injured at any time in training or at an event and my belief is that you just can't afford to wrap yourself up in cotton wool. The only way of giving yourself the best chance at the Olympic Games is to push all the time in training. With that in mind my next couple of weeks include a tough GB camp in Kendal between Christmas and New Year and a visit to the London GB performance centre for a mini camp in the first few days of January to give myself best preparation for Kazakhstan and the rest of the Olympic year.
I'll let you know how these camps and competitions unfold in my next blog. Until then I hope you all have a great Christmas and a happy new year. 2012 is going to be a big one!