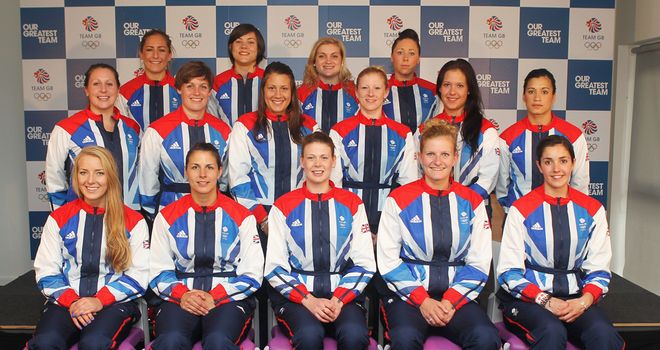 Team GB: Will be competing in Olympic handball for the first time
Team GB have named their first ever Olympic handball players after selecting a 14-strong women's squad for this summer's Games in London.
A centralised camp was set up in 2006 with the intention of developing a team capable of competing at the Games, but it has not been easy as they have faced regular spending cuts.
Despite that GB, coached by Dane Jesper Holmris, have made remarkable progress and have registered success against some of the top teams in the world.
Norwegian-born winger Britt Goodwin's selection as part of the squad marks the end of a long road to London which began in 2007.
Goodwin, whose British father Steve moved to Norway to play for Lillestrom, enjoyed fame and celebrity as a reality TV star in the country for a short while but is now completely focused on handball.
"I am absolutely over the moon," she said of her Olympic selection.
"I have been in the team for the last five years. I have had to give up my job, give up by apartment, leave my boyfriend and come over here.
"But when this is what is at the end of it all, it's worth it. Before being selected it has been a bit unreal, but after today and seeing all the amazing kit, it makes everything a bit more real.
Dream
"It was an amazing feeling winning (TV series) Big Brother in 2005 because it was the public that voted so that was nice, but it is nothing compared to the Olympics.
"It is every athlete's dream to be here and to be able to represent Great Britain in London - you can't really touch that."
She added: "It has been tough at times but we focused on our training and we got through it and here we are now. In 2007 when I first started it was four of us and we did wonder what was going to happen.
"But more players came in and now at the end we have just improved so much I can't even tell you. If you watch a game from us in 2010 and now it is just two different sides."
Playmaker Nina Heglund has also had an eventful journey, having joined the camp as a 15-year-old. She was also born in Norway, but has a British mother and is proud to be representing Team GB.
Heglund said: "It is amazing, I am going to have my 19th birthday at the Olympics so that will be a birthday I will never forget.
"We have trained hard everyday working together towards this big dream and now it is on the horizon, I am so excited.
"It was very scary, I can barely remember anything about it other than being really scared. I didn't grasp how big this could get, but looking back it is has been an amazing journey."
Team GB women's handball squad: Sarah Hargreaves, Jane Mayes, Zoe van der Weel, Holly Lam-Moores, Ewa Palies, Kathryn Fudge, Lynn McCafferty, Nina Heglund, Yvonne Leuthold, Marie Gerbron, Kelsi Fairbrother, Britt Goodwin, Louise Jukes, Lyn Byl.