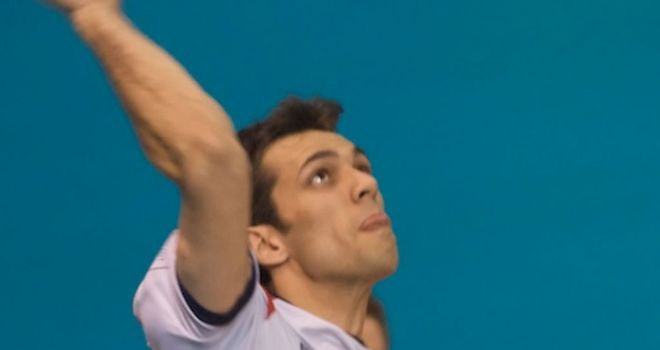 Andy Pink: Dancing for joy in France
Bonjour from France!
What a difference a week makes. When I last wrote I was on my way to the Athens airport, an economic refugee fleeing Greece in these austere times. I made for the home comforts in London before embarking on what is hopefully my final quest before the summer of 2012. I then boarded the Eurostar for Paris, and in a few short hours I had joined my new team in Rouen, France.
It pains me to say, in a slightly bizarre twist, that it was decided in an effort to say 'Merci' to the fans and to generate a little bit of interest in the team, we would do a dance, on court, in silly wigs, after the first home game of the new year. Any interested parties, I can't imagine there are many, can find it by typing in ALCM Volley into youtube. http://tinyurl.com/732wydz
I think we spent half our time in the run-up to that event training for the dancing rather than volleyball. I don't think I've laughed so hard before or since. Seeing a couple slightly clumsy and without rhythm 6'9'' guys attempting to get some choreography down was brilliant. We even had to draft in the wife of one of the players to help as she is a fitness instructor and as close to a dance teacher we could find at short notice.
As is becoming a habit, we won the match 3-0 (which I watched from the stands), then I quickly ran into the changing rooms to don my silly (pink) wig and - in my first official duty for the club - did a little jig. The crowd seemed to love it and it got picked up all over France, so I suppose you could say it was a job well done. Cue hilarious jokes that they only signed me for my dancing.
First time
If that wasn't shame enough, I'm also slightly embarrassed by the revelation that when I disembarked the Eurostar, those steps were my first ever on French soil. It's incredible when you consider that for the national team alone we have been to such far flung places as Albania and Azerbaijan, as well as Macau and Hong Kong, not to mention most of North Africa and parts of the middle east. It's the one major European language I know next to nothing about. But I can only report what a pleasant experience it has been in the month or so I have been here.
France, in volleyball, has traditionally been a minor power league up against the much higher salaries that can be attained in Italy, Russia, Greece, Turkey and more recently Poland. Due to the changing economic status of those countries, France has become a safe haven mainly down to the strict labour laws enforced. In other words, when you sign a contract in France you can be sure to take all of the money owed to you.
After my torments in Greece, it was a bit of a shock when my new club here in France reimbursed my travel expenses and paid me part of my first salary in advance to help bridge the gap left by the Greeks.
Within the first week I was inside a fully kitted out flat near the sports-hall, and all set up with internet, telly and phone service. In Greece it took us over six weeks to get an internet connection. The French can eat as many baguettes as they like, when they are this organised they are alright by me.
The team itself is flying high, currently undefeated at the top of the division. I was a little hesitant to join the team when I was doing my due diligence, as I was thinking that maybe I would just be a little luxury for the president and wouldn't really be needed, but that hasn't proven to be the case.
Show me the money
One of the factors which forced me to grab the biro and sign on the dotted line for this club was of course financial. They are going to pay me exactly what my salary was supposed to be in Greece, and we need all the funding we can get. After hearing the rumours about the difficult financial situation faced by the British Volleyball Federation, because of funding, it is important to come into the summer with enough in the bank to get me through it.
It is slightly disappointing that leading up to the biggest event of our lives this summer, we are going to have to exhaust our meagre personal resources to compete but we have all travelled so far down the road there is no choice in turning back now. How we are expected to provide a legacy when we can't even cover the basic living costs of our highest level athletes is beyond comprehension, but we have been left with no choice.
Since the great dance of early 2012 we have ran through three more victories taking up to 15-0 and with a nearly insurmountable 11 point lead in the race for promotion. The club will be moving into a brand new sports hall in the centre of Rouen next season and the city and everyone connected to the club is excited about next season already. We still have a job to do in this season of course so we are training up to 11 sessions a week which, for me personally, is exactly what I was looking for with a view towards the upcoming summer of 2012.
I'll return to regale you with tales of how I took 30 minutes of training time one day to try to explain cricket to the team, how the British invented champagne, and why eating anything you find in the garden is not acceptable, next month.