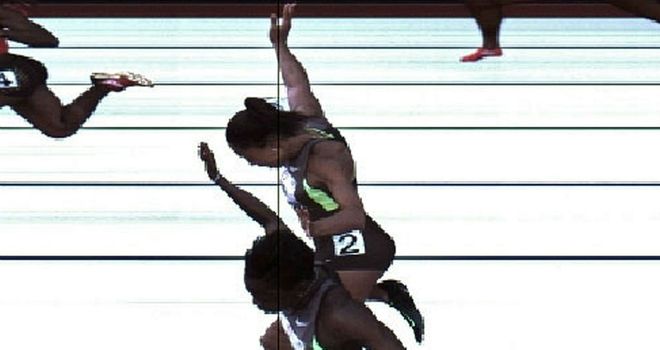 Jeneba Tarmoh & Allyson Felix in dead heat
In a bizarre twist to the selection saga for the USA Olympic sprinting team, Jeneba Tarmoh backed out of a proposed race-off with Allyson Felix for the final place in the 100m line-up.
The two training partners had finished in a dead heat for third place at the US Trials in Oregon last weekend, and with no rules for such an event in place it was finally agreed to stage a match race between the two on Monday.
Tarmoh had originally believed she had come third, even being interviewed as such and taking a place on the podium celebrating a berth at the London Olympics.
However, it later emerged that she and Felix could not be separated on the official photograph, and after hours of talks she reluctantly agreed to the race-off.
After thinking things over though, Tarmoh has now backed out of the race and her agent Kimberly Holland wrote an email to USA Track and Field to officially rule herself out of the team.
"I Jeneba Tarmoh have decided to decline my 3rd place position in the 100m dash to Allyson Felix," Tarmoh wrote in the e-mail.
"I understand that with this decision I am no longer running the 100m dash in the Olympic Games and will be an alternate for the event.
Alternate
"As an alternate I understand that I will be asked to run if another 100m runner decides not to for personal reasons, and/or on the 4x100m relay."
Felix will now take part in both the 200m and 100m - joining 100m winner Carmelita Jeter and second-placed Tianna Madison - while Tarmoh will have to make do with a spot in the sprint relay team.
"We are disappointed that Jeneba has changed her mind regarding her position on the Olympic Team," said USA Track and Field president Stephanie Hightower.
"We all worked hard to reach a consensus on the tiebreaker, but we know that Allyson, Carmelita and Tianna will represent Team USA well."
Jeter and Felix will both be going for the double, with Jeter looking stronger at the minimum distance while Felix was flying at the 200m in the Trials as she posted the sixth fastest time in history.
Felix is bidding to go one better in London and finally claim the Olympic title after finishing with silver in the 200m at the last two Games in Athens and Beijing.