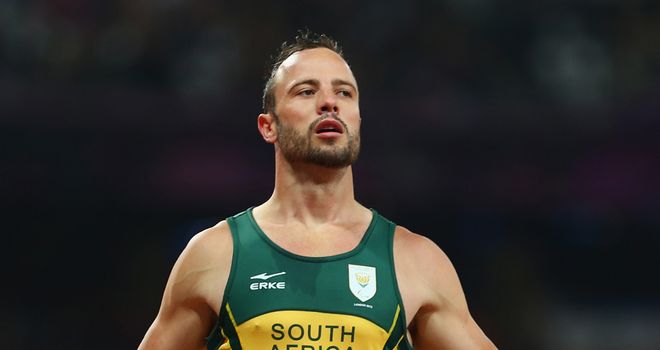 Oscar Pistorius: Looking to sign off his London 2012 campaign in real style
Oscar Pistorius has vowed to sign off from a Paralympics in which he has surrendered two of his titles in "spectacular" fashion.
The Blade Runner geared up for Saturday night's 400 metres final - the last event at the Olympic Stadium - by coasting through his heat with almost effortless ease.
The South African has lost his 100m and 200m crowns, to British teenager Jonnie Peacock and Brazilian Alan Fonteles Oliveira respectively, over the past week, but is clearly in no mood to relinquish his hold over his strongest event.
He has gone much quicker than the 48.31 seconds clocked last night - he had to in order to achieve his dream of competing in the Olympics - but that was still more than two seconds ahead of the next faster qualifier.
"It was comfortable for me," he said. "I just took it easy. Hopefully I'll come out tomorrow and do something spectacular."
He added on Channel 4: "It [the 400m title] means so much to me. This will be my last race of the Games and it's just really special."
The 25-year-old, who waded into the debate over running blades after his shock loss to Oliveira, will face the Brazilian and American Blake Leeper in the final, both of whom use the long blades which so incensed Pistorius.
Neither looked like they would pose anything resembling a threat to him in the final, though, Leeper winning the other heat in 50.63secs, ahead of Oliveira.
Bizarre race
The Brazilian ran the most bizarre of races, flying off over the first 200m before completely running out of steam and barely walking over the line.
"The 200m is the one I've trained the most for. But in the 400m I'm going to try to get a medal," Oliveira said afterwards.
"I'm going to go for it as much as I can tomorrow. Even if I injure myself I'm going to go for it."
Great Britain were due to begin a low-key final morning at the stadium with 10 athletics golds after Josie Pearson added another on Friday to cap a remarkable rise to the pinnacle of Paralympics sport.
The 26-year-old won gold and set three world records in the F51/52/53 discus nine years after breaking her neck in a car accident and less than two after taking up throwing.]
Ireland's Jason Smyth - the world's fastest Paralympian - followed in the footsteps of Usain Bolt by completing the sprint double, adding the 200m crown to his 100m title in the T13 class.