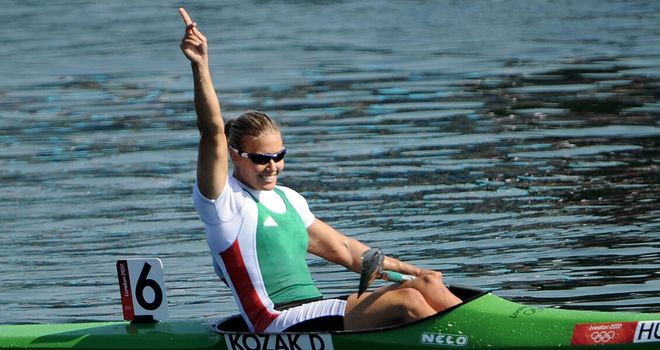 Danuta Kozak: Stormed to gold in the women's K1 500 metres
Hungary's Danuta Kozak took the gold medal in the women's K1 500 metres as British hope Rachel Cawthorn came home in sixth position.
The two-time European champion set a time of 1 minutes 51.456 seconds, with defending champion Inna Osypenko-Radomska of Ukraine taking the silver medal and South Africa's Bridgitte Hartley claiming bronze.
After winning her heat, Cawthorn was in the hunt for a medal. But she said the experience of competing in her first Olympics will stand her in good stead.
Cawthorn said: "I just wish I could have finished a bit further up.
"After what I did in the heat and semi, I knew I was better than what I thought I was. With all the crowd here, it makes you want to win a medal even more to experience it even more.
"I am a bit disappointed to finish where I did."
"It just seemed to be over really quickly. All that training and all that time, just so much thinking about it. It is now just done and I don't know what to think.
"I had a good start and I think that in the next 100m I just didn't nail as well as I did before. I probably needed to be a bit braver, to just hit it. I was probably just a bit too far down to come back at the end.
Incredible
"I kind of get the whole Olympic cycle thing a bit more now that I have raced the finished product and it makes me more aware going in to the next cycle why you train those four years.
"It was really incredible out there and this is where you want to be at your best.
"I just tried to think of it as just another race but after the K4 yesterday being so close to a medal and then seeing what I could do in the semis, made me know that I was in with a chance, that I wasn't miles off.
"It was hard not think about that this morning and last night. I didn't really get any breakfast in, well I did, but it came out.
"I was trying to think about the process and use the crowd at the end."
Elsewhere at Eton Dorney, German duo Peter Kretschmer and Kurt Kuschela claimed a comfortable victory in the men's canoe C2 1000m.
The duo finished nearly two seconds ahead of brothers Andrei and Aliaksandr Bahdanovich from Belarus, who took silver. Russia's Alexey Korovashkov and Ilya Pervukhin won bronze.
Germany also took gold in the women's K2 500m as as Franziska Weber and Tina Dietze took the victory.
Hungary's double Olympic champions Katalin Kovacs and Natasa Douchev-Janics finished second with Poland's Beata Mikolajczyk and Karolina Naja taking the bronze medal.
Australia took the gold in the men's K4 1000m as the boat of Dave Smith, Tate Smith, Murray Stewart and Jacob Clear led from the start and won by half a length.