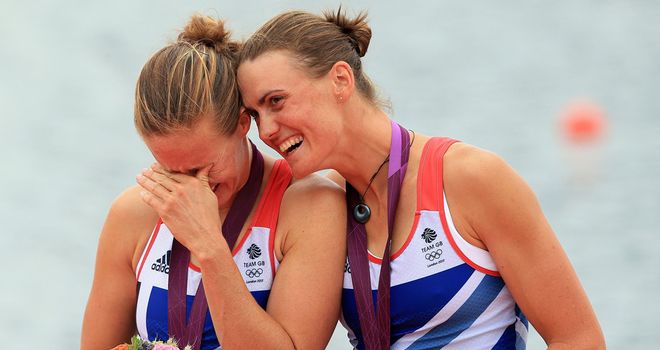 Helen Glover and Heather Stanning: History makers
Olympic champions Helen Glover and Heather Stanning were hit by the enormity of their achievement in winning Britain's first gold medal of the Games as they crossed the finish line.
It was an historic moment for the pair, who not only ended Team GB's wait for glory at London 2012 but also became Britain's first female Olympic rowing champions.
Prince Harry and the Duke of Cambridge were among the 26,000 spectators who made the journey to Eton Dorney in the hope of witnessing Britain's first gold.
The British coaches Paul Thompson and Robin Williams had been drumming into the Olympic debutants that this was any other regatta, but that facade was blown away on the finish line.
Glover and Stanning punched the air and then embraced in the boat as the emotion and the adulation washed over them.
Expectations
"We were mildly aware of the expectations. We were kidding ourselves it wasn't happening. We were saying it was about us," Glover said.
"But as soon as we crossed the line we realised there was a lot of expectation on us. We realised people were waiting for that."
When Glover and Stanning hit the wall of sound generated by 26,000 supporters in the grandstands, they extended their lead to two lengths
"We generally have quite a fast start, which happened today," said Glover. "As soon as we got out of the blocks we tuned into our boat. We looked up, we were ahead and we tuned back in.
"Then we looked up and we were further ahead. You can never be complacent. We have some ferocious competition and I am proud to be racing them.
"I enjoyed the row in a strange way because it hurt. We never got to the point where we sat back and thought 'this is fun'."
Inspiration
Glover, a former PE teacher, only took up the sport four years ago and now has two world silver medals to her name and an Olympic gold.
She hopes her achievement - particularly in delivering Britain's first female Olympic rowing gold - can be inspirational to others.
"I really hope it has a snowball effect in the coming weeks," she said. "In the coming days I hope we have some great results to come from GB Rowing.
"In the wider sense of sport, I worked as a PE teacher and I have seen how inspired young people can be.
"I have an athletics background and when I watched Kelly Holmes win her two medals, that was massively inspiring."