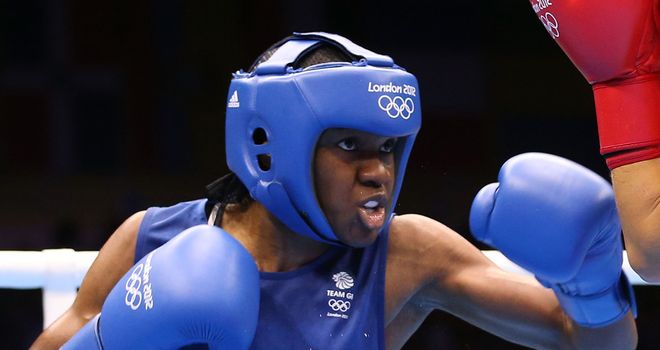 Nicola Adams: Fighting for Olympic gold
Nicola Adams will fight old foe Ren Cancan of China for the women's flyweight gold medal tomorrow after getting the better of five-time world champion Mary Kom in their semi-final at ExCeL.
After both fighters were roared to the ring, Indian superstar Kom went straight on the offensive, but the early moments were messy as the Indian sought to muscle up close and was repelled by the much bigger Adams.
The Briton's major reach advantage helped her score with a pair of left jabs, but Kom made light of the size discrepancy by landing a right hand of her own as Adams took the opening round 3-1 on the scoreboard.
Adams continued to box smartly in the second, two big right uppercuts helping her stretch her lead by a further point to 5-2 at the halfway stage, and wobbled Kom with a left in the third as the Indian was forced to be less cautious.
Adams took an 8-4 lead into the last round, and Kom admirably kept searching for a way through until the dying moments, but Adams was too clever to let her big chance slip and saw the fight out for a comprehensive 11-6 win.
Afterwards Adams, who almost gave up the sport four years ago due to funding concerns, insisted she had no fear of returning to the ring against the Chinese fighter, to whom she has lost in each of the last two world finals.
Adams, who also holds a one-point win over Ren from the Strandja Cup in February this year, said: "I've been training for this moment since I was 12 years old and to think it is finally here is just incredible.
"I am going to treat it like a normal tournament, and hopefully the crowd will give me a boost to edge away and get the gold. I've beaten her once before and I'm definitely confident I can go out and do it again."