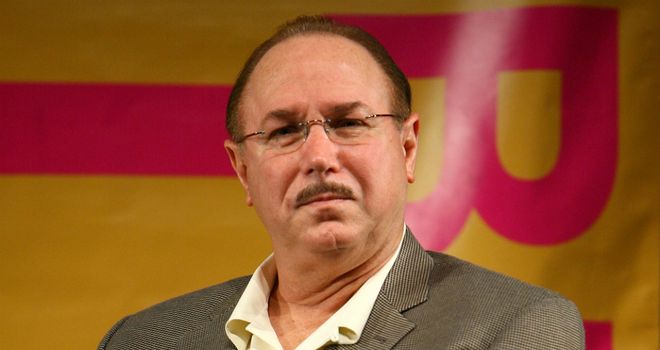 Victor Conte: BALCO founder thinks Dwain Chambers deserves chance to run at London 2012
BALCO founder Victor Conte believes Dwain Chambers would fully deserve a place at this year's Olympic Games as a result of his anti-doping work following his ban for drug use.
The Court of Arbitration for Sport (CAS) formally declared the British Olympic Association's lifetime ban for drugs cheats non-compliant with the WADA code, opening the door for sprinter Chambers to be chosen by Team GB in London.
Chambers was handed a two-year suspension in 2004 for the use of 'designer steroid' tetrahydrogestrinone (THG) - supplied by Conte's BALCO.
"Dwain has done everything he can to become an anti-doping advocate and assist those and I think that has to be factored into the equation as well."
Victor Conte Quotes of the week
The 34-year-old has since become a prominent anti-doping campaigner and Conte believes athletes who are prepared to do this should be rewarded.
Second chance
"I believe Dwain does deserve his second chance," Conte told Sky Sports News.
"It's just common sense that there must be standardisation and harmonisation of the rules as well as the punishment for the violation of those rules.
"Many other athletes received two-year bans. Dwain has basically been blackballed and punished for the last nine years.
"Dwain stepped forward, he asked me to write a letter to UK Athletics, in great detail, providing the drugs, the dosage, the frequency and the purpose, which we did.
"Dwain has done everything he can to become an anti-doping advocate and assist those and I think that has to be factored into the equation as well.
"There are those who are saying the sentences need to be longer, such as four years.
"But is the athlete giving information and assisting and trying to create positive change and reduce the use of performance-enhancing drugs in sport?
"If that's the case then there should be exceptional circumstances where they may receive a reduction. It just depends on what the athlete is willing to do to actively become involved in this collective effort to reduce drug use."
Ineffective testing
Conte, who served a fourth-month prison sentence as a result of distributing illegal substances to athletes, has also gone on to assist the authorities in the fight against drugs.
He has, however, been inflammatory in his comments towards the testing procedures in the past and once again repeated his insistence that it needs to be modernised if cheats are to be caught at this year's Olympic Games.
"They need to provide information that enables the testing to be more effective," he added. "It is not effective now, as an example.
"I believe they need to change their approach for the Olympic Games in London in terms of testing.
"I believe a lot of athletes are using synthetic testosterone and getting away with it because I do not think the the 4:1 ratio is effective. A lot of people are under that ratio and using drugs.
"I believe there would be a lot of athletes caught using testosterone if they would just use new technology. So new information that enables you to be more effective with your testing is needed because I don't think it's as effective as it can be."