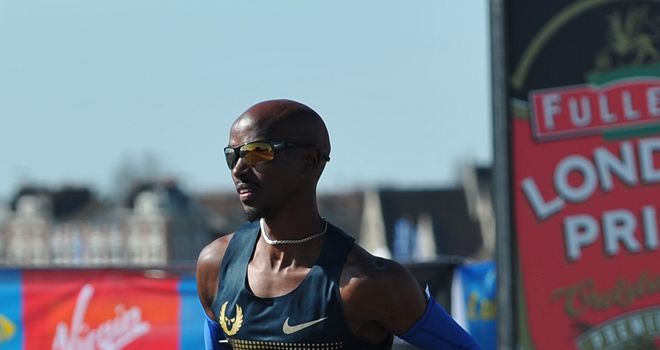 Mo Farah: Overwhelmed away by support on the streets
Mo Farah vowed to show up for the 2014 London Marathon as a contender after running half of this year's race.
The Olympic 5,000m and 10,000m champion drew criticism ahead of the event after revealing his plan to drop out just under halfway through the 26.2-mile course.
Farah always insisted his appearance in the 33rd running of the race was more than a money-making exercise, and after reaching 20km in a time of 58 minutes, 28 seconds he told the BBC: "Next year I'll come and do the full marathon.
"I've learned the biggest lesson of my life. If I had come here next year and made a mess of the race I don't think I could have dealt with that.
"It's not a problem with the pace. The pace looks good and obviously I've got to get past halfway.
"The biggest challenge I had was picking up the right drink and I made a mess of that. I'll watch the race back to see how much of a mess I made of it."
Londoner Farah, who woke up late ahead of the race and was seen running out of his front door, was overwhelmed by the support on the streets.
"It was incredible," he said. "The amount of support, people coming up from everywhere, just cheering the whole way... unbelievable.
"I didn't think there'd be as many people as today. They're just cheering, coming up from houses, on the roof...the atmosphere's incredible."