Perfect tribute
Jo Healy believes the Closing Ceremony to the Paralympic Games was the ideal finale to a wonderful event.
Last Updated: 10/09/12 12:28pm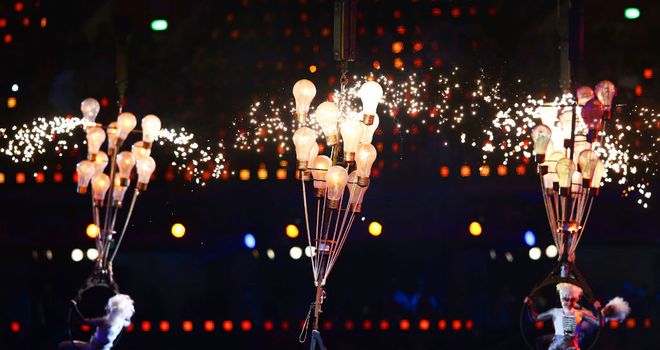 How do you sum up the most incredible experience of your life? I'm finding it quite difficult to comprehend that it is all over. The amazing sport, the fantastic people involved, and the all-round atmosphere that has enveloped London for the past 50 days.
It is a strange time, mixed emotions because the Olympics and Paralympics have been so unbelievable. I feel honoured to have been part of it and then sad that it has come to an end.
Great Britain sitting volleyball player Justin Phillips tweeted: "Don't cry because it's over, smile because it happened! @ParalympicsGB". How true.
Although most sports were finished, the final day was still highly anticipated.
And David Weir did it again, winning his fourth gold medal of the Paralympics in the wheelchair marathon. What a magnificent athlete. He is arguably the best GB Paralympian, but then again how do you come to that conclusion when there have been so many other spectacular performances.
As a combined total, the Paralympic athletes have broken 421 Paralympic records and 251 world records. But the most significant record, the one that has had the biggest impact, came at the Closing Ceremony. In a captivating speech, Sir Phillip Craven, International Paralympic Committee President, declared the Games as the best Paralympics ever.
Amazing
It was a great moment and one that Britain should be proud of. I found it amusing that the entire Olympic stadium then booed when Craven announced the Games closed. But it is no surprise, I don't know anyone who wanted the Paralympics to be over. As the saying goes, all good things must come to an end, and the spectacle of the Closing Ceremony was a perfect tribute.
Coldplay were as brilliant as ever. I won tickets to see them in concert in Adelaide a few years ago, and they were phenomenal. Seeing them on stage at the Closing Ceremony and knowing how much it meant for them to be there was really humbling. The whole show was amazing. Not just the music, but the dancers, lighting, stunts, fire displays, and seeing a wonderful mix of disabled and non-disabled performers was fantastic.
Disabled drummer Mat Fraser joined Coldplay on stage and looked as if he was having the time of his life. His big grin was contagious. Fraser's arms barely reach the length of an elbow and yet his ability was incredible. I was awe struck. Another example of how the Paralympics have opened so many doors for everyone.
I thought Rihanna entered the stadium and had a great impact of the show. I have always loved her chemistry with Chris Martin on stage, it brings the song to life. Not so sure about the 'yeah', 'what's up', and 'uh' noises that were coming from Jay-Z.
I do enjoy some of his music, but I just felt he was a little out of place. I don't think he added anything to the show. Coco Chanel once said, the last thing you put on, take it off.