Ground-breaking
Paralympic legend is excited by what the London Games have to offer
By Emma Bird. Last Updated: 05/09/12 9:57am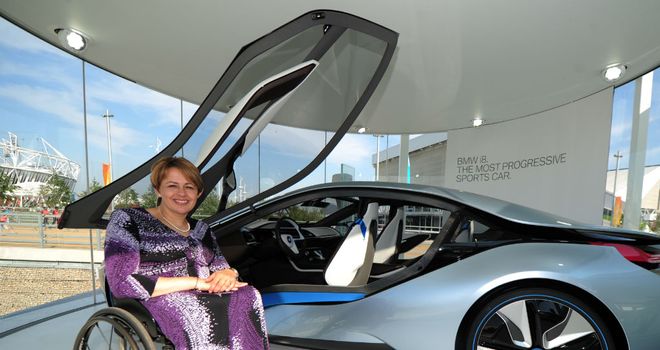 Baroness Tanni Grey-Thompson: Excited about the 2012 Paralympic Games
For Baroness Tanni Grey-Thompson, the London 2012 Paralympic Games are already like none she has seen before and she doubts they "will ever be the same again."
The 11-time wheelchair racing gold medallist, who was speaking on Monday on the BMW Pavilion, is overwhelmed by the impact of the Games as they enter their fifth day.
"I thought people would come to watch but this is just unbelievable. "
Baroness Tanni Grey-Thompson Quotes of the week
She told SkySports: "The Games have been amazing so far. The crowds that are coming in every single day are just phenomenal. The level of interest is just beyond everything I had hoped; I thought people would come to watch but this is just unbelievable.
"You walk through the city and you see billboards with Olympians and Paralympians on them and that's a massive change to the way it's been in the past. I am just so excited about what these Games mean."
Drama
With so many exciting and exhilarating events on and off the track in London already, the Baroness is thrilled that the sport is getting so much attention.
She added: "David Weir winning the 5,000m last night was just unbelievable- he's a great tactician, he's calm, he's focused-an amazing athlete. The drama too with Oscar Pistorius and Alan Oliveira - there are some really dramatic races on the track...that will keep the passion going beyond these Games."
The Paralympic legend also has an even more personal interest in a certain athlete at these Games, GB's Jade Jones.
Her husband Ian is Jones's coach and hence interest in the youngster will be incredibly strong.
Rio
She added: "She's 16, she is a huge talent, and she has done some incredible times this year.
"It's a tough Games for her, she's competing against girls who have 10-15 years more experience than her but she'll perform well. Rio was always the focus and that she made these Games was a bonus."
So with ParalympicsGB already sitting comfortably in second spot in the medal table at the moment, Grey-Thompson is confident that Britain will benefit hugely from hosting the 2012 Games.
"Lots more people will understand what Paralympic sport is. I think there will be a more enlightened attitude towards disabled people and maybe a bit more interest on a commercial level."
Influential
As she tips David Weir, Sarah Storey and Lee Pearson as potential medal winners, the Baroness also believes some of the younger athletes will also come through and enjoy success.
One thing is for sure in her mind - these Games will be pioneering, influential and inspiring.
She concluded: "I don't think the Paralympics will ever be the same again."
Tanni Grey-Thompson is part of the BMW London 2012 Performance Team. BMW is the Official Automotive Partner of London 2012, for more information please visit london2012.bmw.co.uk