Paralympic history
The Paralympics return home in London 2012. We look at the history of the event born in Stoke Mandeville in 1948
Last Updated: 23/08/12 12:36pm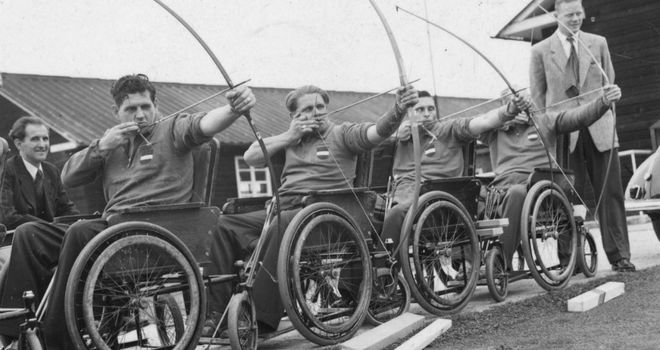 Paralympic archers compete in 1953
From Stoke Mandeville to London via Tokyo and Sydney, from archery to the wheelchair marathon via dartchery and lawn bowls, the Paralympic Games have enjoyed a colourful history since their humble beginnings at a hospital in Buckinghamshire for Second World War veterans.
Then, to coincide with the 1948 Olympics in London, 16 ex-servicemen and women with spinal injuries took part in an archery competition organised by an innovative German neurologist; at London 2012 more than 4,000 dedicated athletes will compete over 503 events in 21 sports.
Now the biggest names in Paralympic sport are global stars, with amputee sprinter Oscar Pistorius admired the world over for breaking barriers, while American swimmer Trischa Zorn, who was blind from birth, has amassed a staggering 55 medals, including 41 golds.
Both, though, owe a debt to that German doctor, Sir Ludwig Guttmann, and his theory that sport could play an important part in physical and mental rehabilitation.
As his ideas spread to hospitals around the country and beyond, the Paralympic Games was born.
Rome start
The first official Paralympics were held in 1960 in Rome with participation open not only to the war wounded, although it was restricted to those in wheelchairs.
Around 400 athletes from 23 countries competed across eight sports, with every athlete guaranteed a medal as there were no more than three individuals or teams in each event.
Great Britain finished second to Italy in the medal table, winning 55, including 15 golds.
Among the champions was Margaret Maughan, who had been a patient at Stoke Mandeville Hospital after a car accident left her paralysed.
She won Britain's first Paralympic gold medal in archery and went on to take another in swimming as the only competitor in the 50 metres backstroke race.
Golden career
She finished her 20-year Paralympic career with four golds in four sports, winning the dartchery (unsurprisingly, a cross between darts and archery) pairs in 1972 in Heidelberg and lawn bowls pairs in Arnhem in 1980.
Weightlifting, and wheelchair racing in the form of a 60m dash, were added to the programme in Tokyo in 1964.
But it was not until the 1976 Games in Toronto that athletes with different disabilities took part, with amputee and visually-impaired athletes competing for the first time.
The 1988 Games in Seoul proved another landmark - the first time the Paralympics were held in the same venue and using the same facilities as the Olympics, heralding a new modern era for the Games.
London 2012 will be the 14th edition of the Paralympics - and quite possibly the best yet.