Pistorius has "no intention" of travelling overseas to compete
Last Updated: 28/03/13 10:53pm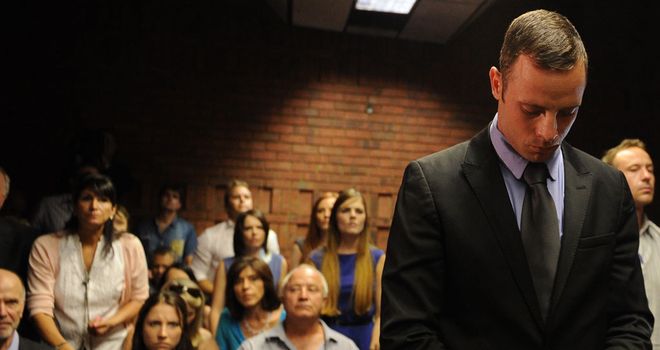 Oscar Pistorius: His uncle has cast doubt on the prospect of the Paralympian competing at this summer's World Championships
Oscar Pistorius' uncle has cast doubt on the prospect of the Paralympian competing at this summer's World Championships by insisting his nephew has "no intention" of travelling overseas as he awaits trial for killing his girlfriend.
Lawyers for the South African athlete successfully challenged bail restrictions relating to international travel meaning he is free to travel abroad for competitions.
But Arnold Pistorius said thoughts of a comeback were far from uppermost in the mind of his nephew who is likely to stand trial for the shooting of Reeva Steenkamp before the end of the year.
Speaking to Sky Sports News he said: "We know Oscar cannot go anywhere in the world because everybody will recognise him. He doesn't want to go anywhere and he doesn't want to go into public life because he's not ready - he's absolutely not ready to do that.
"Oscar's got no intention to travel overseas now - he needs his family. I can't see him getting along without the support of his family."
Pressed further on whether his nephew could return to the track soon, he replied: "Not in the near future. Not realistic. I don't think so."
Training
He admitted, however, that it was only a matter of time before Oscar would have to return to the track if he is to retain any chance of competing on the global stage.
"In the future, perhaps yes. I would like to say that," he said.
"Knowledgeable people tell me that if a super athlete doesn't train for a year, he'll never get back to what he was, so we tried to convince him to get back into training.
"He knows that he'll have to do that. If he ever wants to run again he'll have to get back to training, otherwise he will just not be able to get back on track."
When pressed on why Pistorius' legal team was keen for the return of his passports if he was unlikely to travel overseas, Arnold Pistorius said: "It was a legal point."
Discussing the appeal against the bail conditions more widely, he added: "He doesn't want to take a blood test every Friday and those kinds of things.
"He doesn't want to be treated as a criminal because he's not a criminal - he's good-natured, soft-hearted, and he's got a broken heart at the moment.
"What is worse then losing someone you love and you have been the instrument? It's unthinkable."