Cundy eyes Glasgow
The Paralympian wants to completely redefine Para-cycling
Last Updated: 25/09/12 3:01pm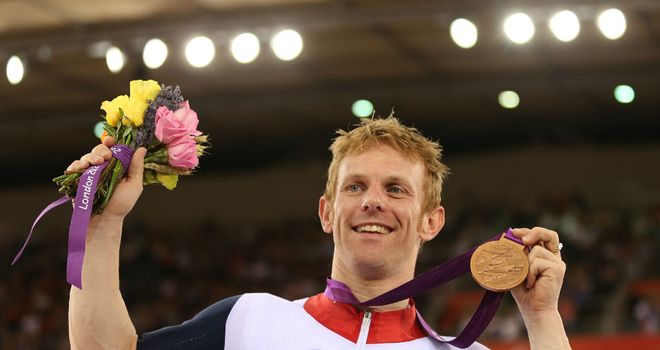 Jody Cundy: Bidding to be a part of England's 2014 Commonwealth Games team
Jody Cundy, the double Beijing Paralympic gold medallist, is launching an ambitious bid to be part of England's 2014 Commonwealth Games team.
Cundy is bidding to follow the precedent set by Sarah Storey, who became the first Para-cyclist to represent England at the Games when she competed in Delhi in 2010.
"It might be unattainable but if I don't try I'll never know."
Jody Cundy Quotes of the week
While the 33-year-old Cundy admits it is a tough target, he hopes the success of his quest could help to "redefine" the nature of his sport on the back of the incredible success of 2012.
Motivation
Cundy said: "I have raced in able-bodied competitions before and reaching the Glasgow Commonwealth Games would be such a massive step forward for me that it gives me all the motivation I need.
"I probably have to improve by two and a half seconds over a kilometre to make the squad. It's a big challenge because there will be a far stronger level of competition than there was for Delhi.
"It might be unattainable but if I don't try I'll never know. I always try to push the boundaries and if I get beaten by a bunch of able-bodied guys it will make me even more hungry to improve in the future.
"I want to completely redefine Para-cycling. I want to achieve things that only a handful of other people can do. If I could make the Commonwealth Games squad, it would be a huge achievement and show people what is possible."
Perceptions
Cundy, who is part of the Sky Sports Scholarships programme which funded Paralympic and Olympic athletes in the run-up for London, saw his profile increase enormously after his foul-mouthed rant following disqualification from the C4/5 time-trial before he bounced back to win bronze in the 4km pursuit.
However, he accepts that while he is not proud of what he calls his "John McEnroe moment", it served to change perceptions of Paralympic sport which he believes can only help its future growth.
"Much as it wasn't my proudest moment, it has definitely helped change the image of the Paralympics and made people aware that we take our sports and our success just as seriously," he added.
"I am probably always going to be remembered for that, rather than as the guy who has won five Paralympic gold medals and three bronze medals.
"But things are already starting to change. The other day I saw myself on a big 30-foot poster on my training route, and I had to stop and take a picture.
"These are landmark moments for Paralympic sport. What we need now is to ensure a lasting legacy so Paralympic athletes maintain this level of media and sponsorship interest at other events in between the Games."
Sky Sports Scholarships supports some of Britain and Ireland's leading athletes as they compete on the international stage and live life in the spotlight. Hear the Sky Scholars' stories on Sky Sports News and skysports.com/scholarships