Worth the wait for Woods
Further British success means hosts will finish third in medals table
Last Updated: 09/09/12 5:07pm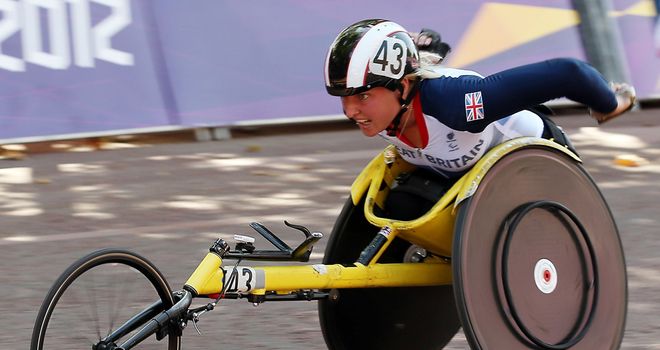 Shelly Woods: held off Sandra Graf of Switzerland and Amanda McGrory of the United States
Shelly Woods secured a medal at the London Paralympics at the last attempt, taking silver in the T54 marathon.
Coming into the home straight in a group of four, the Brit held off Sandra Graf of Switzerland and Amanda McGrory of the United States to finish behind American Shirley Reilly, who won in 1 hour, 46 minutes and 33 seconds.
Woods had been unable to get close to a medal previously at the Games, missing out in the 1500 and 5,000m and not even reaching the final of the 800m.
"I am so proud of myself," Woods said. "I've had such a tough week on the track. I kept getting bashed down and I kept jumping up for more and today I jumped up for more.
"It was such a tough race, probably one of the hardest marathons I've ever done. I've got blisters, but it's 100% worth it and something I'll remember for ever."
With David Weir taking gold, his fourth of the Games, in the men's T54 marathon, Great Britain will end up finishing in third place in the overall medals table behind China and Russia.
Elsewhere, Brazil's Tito Sena and Spain's Alberto Suarez Laso won the T46 and T12 marathons respectively.